Medical Negligence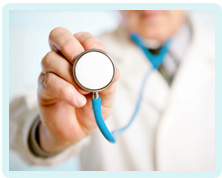 Burst Bowel
If you had a burst bowel and doctors did not recognise and repair the problem, causing you further pain and suffering, you could be entitled to claim compensation. To find out more, you need to speak to a solicitor that specialises in medical negligence.
How does a burst bowel happen?
A burst bowel is also known as a ruptured or perforated bowel. It is when a hole develops in the large intestine, allowing the contents of the bowel to leak into the abdominal cavity.
A burst bowel can happen in a number of ways, many of them non-negligent. Most commonly, a bowel will burst because of:-
A traumatic accident, such as a car crash, in which the intestine is damaged;
A chronic bowel condition such as colitis, Crohn's Disease or diverticulitis, where the wall of the bowel is weakened to such an extent that a hole forms;
A surgical error in which the bowel is accidentally cut or nicked with a surgical instrument.
Is a burst bowel dangerous?
A burst bowel is dangerous because the contents of the large intestine will leak into the abdominal cavity. This includes faeces, food and other waste products. Consequently the lining of the abdominal cavity – called the peritoneum – will become infected. This is a severe infection called peritonitis and will make a patient extremely unwell.
If the infection spreads to the bloodstream, a patient will develop sepsis. This is a life-threatening condition that causes the immune system to over-react, leading to inflammation and clots across the body. At this stage a patient's condition will be critical.
Claiming compensation for a burst bowel
It is therefore essential to diagnose a burst bowel before peritonitis and sepsis occur. Medical professionals should be able to recognise a burst bowel by looking at a patient's history and symptoms. For example, if someone has recently had abdominal surgery, a traumatic accident or has a chronic bowel condition and he/she presents with the typical symptoms of a burst bowel, doctors should quickly come to the conclusion of a burst bowel.
Unfortunately, however, medical professionals do not always make a timely diagnosis. Instead they diagnose a more minor condition, or simply fail to a diagnosis whatsoever. This will be extremely problematic, as a patient will quickly go on to develop complications – something which could have been avoided with prompt action.
Failing to diagnose a burst bowel in a timely fashion often amounts to medical negligence. If you or your loved one has been harmed because of a burst bowel, and you believe medical professionals are to blame, you need to speak to a solicitor about claiming compensation.
Bookmark This Article?
Can We Help You With A Medical Negligence Enquiry?
Early legal assistance can be vital so please contact us if you would like to discuss your situation. Please call us free on 0800 234 3300 (or from a mobile 01275 334030) or complete our Online Enquiry Form.

---