Medical Negligence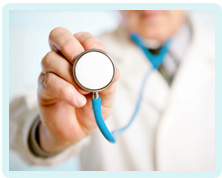 Burst Appendix Because of Delayed Diagnosis
If your appendix has burst because doctors failed to diagnose you with appendicitis, you could be entitled to pursue a compensation claim. Please contact us today to find out more.
Burst appendix
A burst appendix is also known as a perforated or ruptured appendix. It will happen when the appendix become inflamed and filled with pus (called appendicitis) and is not treated. Eventually the appendix will become so full of pus that it cannot expand any further and it simply bursts.
A burst appendix is extremely dangerous because the pus will spill into the abdominal cavity, infecting the lining of the abdomen (called the peritoneum). This will lead to peritonitis, a serious infection that will make a patient critically unwell. If the infection spreads to the blood, it may even lead to septic shock and organ failure.
Once the appendix bursts, a patient must undergo emergency open surgery. This will leave a large scar across the abdomen, something which could have been avoided with an earlier diagnosis, when keyhole surgery is still possible.
Claiming for a burst appendix
There are times when someone will suffer a burst appendix because they did not seek medical attention for their symptoms, only attending hospital after the appendix has ruptured. In such cases medical professionals cannot be blamed as the patient failed to seek assistance.
However, there are occasions when a patient will present to their GP or A&E with the symptoms of appendicitis, and yet they are discharged with the wrong diagnosis. There are examples of patient repeatedly presenting to medical practitioners, but each time doctors fail to make an accurate diagnosis.
A misdiagnosis will be extremely dangerous as a patient will not undergo emergency surgery for appendicitis, which is necessary to prevent life-threatening complications. Consequently the appendix will become increasingly inflamed and will ultimately burst.
If a patient suffers a burst appendix because of a delay in diagnosis, there will be grounds for a medical negligence compensation claim.
Compensation for a burst appendix
If a claim is successful, a Claimant will be awarded compensation for the physical, emotional and financial damages incurred because of their burst appendix. This covers aspects such as:-
Physical pain and suffering experienced;
Emotional trauma experienced;
The appearance of the scar;
The impact upon your quality of life;
Loss of earnings, both past and future;
The cost of care provided by loved ones;
The cost of medical treatment;
The cost of travelling to receive medical treatment.
To claim compensation for a burst appendix, please get in touch with us today to speak to a specialist solicitor.
Bookmark This Article?
Can We Help You With A Medical Negligence Enquiry?
Early legal assistance can be vital so please contact us if you would like to discuss your situation. Please call us free on 0800 234 3300 or complete our Online Enquiry Form.

---