Medical Negligence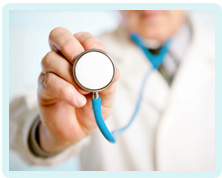 Brain Haemorrhage Claims
If your loved one has been left with neurological damage or has died because medical practitioners failed to diagnose a brain haemorrhage, you could be entitled to pursue a claim.
Diagnosing a subarachnoid haemorrhage
A subarachnoid haemorrhage is caused by the rupture of an aneurysm in an artery in the brain. The sequence of events is the aneurysm gradually increases in size prior to rupture. In many patients who have a proven subarachnoid haemorrhage there is a history of previous headache and blurred vision. This is often considered to be due to the expansion of the aneurysm or a minor bleed, both of which occur prior to the major haemorrhage.
A patient who presents to an Emergency Department with these symptoms should be suspected of having suffered a significant neurological event. A CT scan and a lumbar puncture should be carried out immediately to confirm whether this is the case. Only if these tests are normal can more minor conditions such as a migraine be considered as a possible diagnosis.
Failure to diagnose a subarachnoid haemorrhage
It is well recognised in emergency medicine practice that patients with a subarachnoid haemorrhage may have a completely normal neurological examination. The index of suspicion for subarachnoid haemorrhage is therefore based on the history, rather than the examination findings.
This means that any patient presenting with the sudden onset of a severe headache must be investigated for a subarachnoid haemorrhage. Even if there is no neurological abnormality on examination or the severity of the headache has improved, a CT scan and lumbar puncture must still be carried out.
If medical practitioners fail to recognise the key features of a subarachnoid haemorrhage, and thus fail to investigate it as a possible diagnosis, the standard of care will be deemed unacceptable. If a missed diagnosis causes a patient to suffer complications, which could otherwise have been avoided, there will be ground for a medical negligence compensation claim.
Claiming for medical negligence
If you or your loved one has suffered because of medical error, please get in touch with us to discuss your options. If you have been the victim of medical negligence, we will help you pursue a claim for compensation, obtaining redress for the pain, suffering and financial loss you have incurred. Although this will not undo the terrible damage associated with a missed subarachnoid haemorrhage, it will give you a chance to achieve some sense of justice.
Bookmark This Article?
Can We Help You With A Medical Negligence Enquiry?
Early legal assistance can be vital so please contact us if you would like to discuss your situation. Please call us free on 0800 234 3300 or complete our Online Enquiry Form.

---