Medical Negligence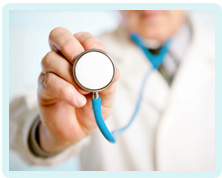 Bile Duct Cut During Gallbladder Removal
If your bile duct was cut during the removal of your gallbladder, you could be entitled to pursue a claim for compensation. A solicitor from our team of specialist clinical negligence lawyers will be able to advise you further.
Gallbladder removal because of gallstones
The gallbladder is usually removed in order to treat a patient who is suffering from painful gallstones.
Gallstones are solid stones made up of cholesterol and other chemicals, and happen when there is a chemical imbalance inside the body. It is not entirely clear why this imbalance occurs, but it is thought that high levels of cholesterol or bilirubin are to blame.
Gallstones are not always painful and some may not even be aware that they have gallstones. On the other hand, some patients will find that it causes significant abdominal pain, so much so that it is difficult to live with.
If gallstones are having an adverse effect upon an individual's life, medical professionals may recommend the surgical removal of the gallbladder. The gallbladder will also need to be removed if gallstones get stuck in a duct, causing complications.
Do humans need a gallbladder?
Human beings do not need the gallbladder and can live perfectly well without it.
The gallbladder does have a function, which is to act as a reservoir, storing bile as it passes from the liver to the small intestine. Nevertheless, it is not an essential organ and humans can live without the gallbladder. Most will not notice any different in terms of function, although some will report bloating and diarrhoea after eating spicy food.
Laparoscopic cholecystectomy
The surgical removal of the gallbladder is known medically as a 'cholecystectomy'. It is normally carried out by way of keyhole or 'laparoscopic' surgery. A laparoscopic cholecystectomy is therefore when the gallbladder is removed by keyhole surgery.
Open surgery is only carried out if it is not safe to perform keyhole surgery – perhaps, for example, because the patient has gallstones in the bile duct. Alternatively a surgeon may switch from keyhole to open surgery during the procedure, ordinarily because a complication has occurred – for instance, there is a significant bleed.
How is gallbladder surgery performed?
A laparoscopic cholecystectomy is performed in the following way:
1. The patient is given general anaesthetic
2. Small cuts are made to the abdomen close to the belly button/on the right hand side of the tummy
3. Carbon dioxide is pumped through one of the incisions in order to inflate the abdomen
4. A long, thin tube is inserted through one of the incisions. This is called a laparoscope and the end is fitted with a light and camera. This relays images to a screen in the operating theatre, allowing the surgeon to see inside the abdominal cavity
5. The nearby bile duct is clamped to ensure bile does not leak into the abdominal cavity
6. The gallbladder is removed with various surgical instruments
7. If gallstones are found to be in the bile duct, these are removed with a special endoscope
8. The carbon dioxide is allowed to escape from the abdomen
9. The incisions are sutured
10. The patient is sent to the recovery ward to wake from the anaesthetic
On average the removal of the gallbladder takes 60 to 90 minutes. As long as there are no complications, the patient will be allowed home the same day.
Complications of gallbladder removal
All operations are associated with possible complication, including gallbladder removal. A patient should be told of these before signing a consent form. The risks associated with gallbladder surgery include:
General anaesthetic complications
Infection
Bleeding
Bile leak
Bile duct injury
Injury to the bowel or blood vessels
Deep vein thrombosis
Post-cholecystectomy syndrome, which has symptoms similar to gallstones
Bile duct injury
A bile duct injury is a serious complication and is the biggest danger associated with gallbladder removal. The NHS estimates it will occur in about one in 500 cases.
The gallbladder may be nicked by a surgical instrument, causing a small amount of bile leakage. Alternatively it may be completely severed.
If the injury is a serious one, it is possible that it is due to surgical error. For instance, the surgeon may have mistaken the bile duct for another structure and cut through it in order to facilitate the removal of the gallbladder.
A mistake as severe as this may well amount to medical negligence.
Bile duct injury and medical negligence claims
Gallbladder surgery can lead to successful medical negligence claims. Normally these claims arise if the bile duct was injured due to substandard surgical care (as discussed above), or if the injury was not diagnosed and treated in a reasonable amount of time.
Indeed, a severed bile duct is a life-threatening injury. If left untreated, the patient could suffer fatal complications. However, it should be possible to avoid this as medical practitioners should either notice the injury before the close of the operation, or realise that a patient is not recovering well after the operation. In each scenario, a diagnosis should be achieved promptly and emergency treatment provided to repair the injury.
Have you got a claim?
If you suspect you, or your loved one, has grounds for a medical negligence claim, please get in touch with us at Glynns Solicitors. We will be able to say whether your bile duct injury was caused/made worse by the actions of medical practitioners. If so, we will run a medical negligence claim on your behalf, working to get the compensation you rightfully deserve.
Compensation is awarded for the pain and suffering you have wrongfully experienced, and for the actual financial loss you have incurred. Therefore if you have lost any earnings because of your ill health, we will be able to recover this sum for you. This includes future loss of earnings if you are unable to return to work because of your injuries.
Speak to a solicitor
To talk to a solicitor about claiming compensation, contact us today by calling the Freephone number, sending an email or filling out the free enquiry form.
Can We Help You With A Medical Negligence Enquiry?
Early legal assistance can be vital so please contact us if you would like to discuss your situation. Please call us free on 0800 234 3300 (or from a mobile 01275 334030) or complete our Online Enquiry Form.

Bookmark This Article?
---