Medical Negligence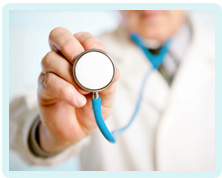 Amputations That Could Have Been Avoided
If you have undergone an amputation because of substandard medical care, you could be entitled to pursue a claim for compensation. To find out more, please get in touch with us today.
Wrongful amputation
There are two types of wrongful amputation:-
1. The wrong limb is amputated (wrong-site surgery)
Firstly, some patients will consent to having a limb amputated for medical reasons, only to come round from the anaesthetic to find the wrong limb has been removed. This may sound unfeasible but wrong-site amputations do happen, often because the surgeon does not properly check the medical records beforehand, or because medical staff have not properly maintained the medical records. Consequently a patient will require another operation to remove the defective limb (as was originally intended), leaving him/her a double amputee.
2. Wrongful amputation
Secondly, some patients will require an amputation because another condition has not been diagnosed and treated appropriately. For example, some infections can cause the body's tissues to become gangrenous. If such an infection is not diagnosed and treated quickly enough, the gangrenous area will spread, resulting in a large area of dead tissue. This tissue cannot be saved and will have to be surgically removed. In some cases, this will involve removing the entire foot/leg/arm/hand.
Claiming for wrongful amputation
In both instances, there may be grounds for a medical negligence compensation claim.
Where wrong-site amputations are concerned, there has evidently been a breach of duty on behalf of the medical practitioners. This has caused a patient unnecessary injury – i.e. a limb has been removed for no good reason – and so there has been a case of negligence.
Where wrongful amputation is concerned, it must be possible to link a breach of duty to the amputation. If a patient had a condition which was not diagnosed and treated in a reasonable amount of time, and this directly contributed towards the amputation, there will be a case of negligence.
It is not always obvious as to whether or not there is a case of medical negligence. To find out for certain, you simply need to contact a solicitor who specialises in this area of the law.
Solicitors for wrongful amputation
To find out if you can claim for an amputation, please get in touch with us today. We will listen to the details of your case before suggesting what action to take next.
Bookmark This Article?
Can We Help You With A Medical Negligence Enquiry?
Early legal assistance can be vital so please contact us if you would like to discuss your situation. Please call us free on 0800 234 3300 or complete our Online Enquiry Form.

---