Medical Negligence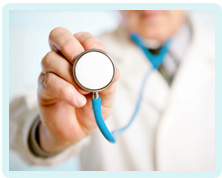 Amputation Because of Septic Arthritis
If your limb has been partially or totally amputated because doctors failed to diagnose you with septic arthritis, you could be entitled to pursue a claim for compensation. Contact a medical negligence solicitor to find out more.
Diagnosing septic arthritis
Septic arthritis is when the joint is infected with bacteria and becomes inflamed. Any joint can become infected, although the knee and the hip are most commonly affected.
The process of diagnosing septic arthritis should not be a prolonged process. This is because doctors should recognise a patient's symptoms as being indicative of infection, as the knee will be red, swollen and hot to touch. There may also be fever, vomiting and diarrhoea.
A blood test will confirm the presence of infection as there will be high levels of C-reactive protein. A sample of fluid can also be taken from the inflamed joint, and this will show a high white blood cell count.
The combination of a patient's symptoms and their test results should quickly leads medical practitioners to a diagnosis of septic arthritis.
Delayed diagnosis of septic arthritis
However, there are times when medical practitioners fail to diagnose and treat septic arthritis in a timely fashion. Often this happens because a misdiagnosis is made and a patient is treated for a different condition such as cellulitis.
There are also occasions when an accurate diagnosis is made, but doctors fail to appreciate the urgency with which treatment should be provided. Antibiotics will be required, and if the infection is advanced, an emergency washout procedure will also be needed following a diagnosis. Such treatment, if provided promptly, can be the difference because a good outcome and an amputation.
Indeed, if there is a delay in diagnosis and treatment, the bacteria will spread deeper into the joint, making it difficult to fully clear the joint and surrounding tissue of infection. In such cases it may be impossible to save the joint, making an amputation necessary.
Additionally, there is the risk that the bacteria will spread into the bloodstream. This can lead to very serious complications such as septic shock, organ failure and even death.
Amputation from septic arthritis
If a patient does require an amputation because of septic arthritis, questions must be raised as to why treatment was not provided earlier. If there was a negligent failure to diagnose the septic arthritis, and an earlier diagnosis would have prevented an amputation, there will be grounds for a medical negligence claim.
If you have had a limb amputated because medical professionals failed to diagnose and treat your septic arthritis, please get in touch with us to discuss making a compensation claim.
Bookmark This Article?
Can We Help You With A Medical Negligence Enquiry?
Early legal assistance can be vital so please contact us if you would like to discuss your situation. Please call us free on 0800 234 3300 or complete our Online Enquiry Form.

---