Medical Negligence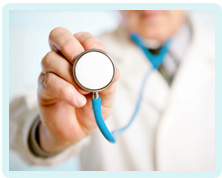 What Is Necrotising Fasciitis?
Necrotising fasciitis is an unusual and severe soft tissue infection in which bacterial toxins attack the subcutaneous fat. Within a short space of time, these toxins will actually kill the soft tissue, causing it to become necrotic. Therefore necrotising fasciitis must be treated as soon as possible, or the infection will continue to spread, leaving a large area of dead tissue.
Staging of necrotising fasciitis
The onset of necrotising fasciitis is deceptive, as the patient will only complain of a vague pain. There will not be any discoloration of the skin or any kind of wound that can explain what is causing the pain. The condition will then develop according to the following stages:
Stage 1: Skin that is tender, red, swollen and hot to touch. A patient may seem generally well in these early stages.
Stage 2: The formation of blisters and a fever.
Stage 3: Crepitus (where the skin crackles), and skin that is numb, dark in colour and necrotic.
If a patient's condition reaches the final stage and still treatment is not provided, the blood can also become infected, potentially lead to multi-organ failure.
Delayed treatment of necrotising fasciitis
This means necrotising fasciitis must be treated without delay, or the consequences could be fatal. Stage 3 necrotising fasciitis carries a very high mortality rate (30-50%), and if the appropriate antibiotics and urgent major surgical debridement are not provided, the mortality rate approaches 100%.
But because the condition begins with a generalised pain, medical professionals are often slow to make an early diagnosis, failing to find an explanation for a patient's symptoms. However, as the condition progresses and signs of skin gangrene become apparent, doctors should easily be able to make a diagnosis, as these signs are characteristic of necrotising fasciitis. And while it is indeed a rare condition, medical professionals should recognise that a patient has an infection and waste no time in sending swabs for histology.
Necrotising fasciitis and medical negligence
If medical professionals fail to make a timely diagnosis, and therefore fail to treat necrotising fasciitis before it develops to the latter stages, there will be a case of medical negligence. This means that doctors did not provide an acceptable standard of care, causing a patient to suffer an injury.
If this is something that has happened to you, you need to speak to a solicitor about the options open to you, as you could be able to make a claim against the medical professional or NHS Trust responsible for your pain and suffering. This would allow you to obtain the compensation you rightfully deserve.
Bookmark This Article?
Can We Help You With A Medical Negligence Enquiry?
Early legal assistance can be vital so please contact us if you would like to discuss your situation. Please call us free on 0800 234 3300 (or from a mobile 01275 334030) or complete our Online Enquiry Form.

---