Back Injury Accident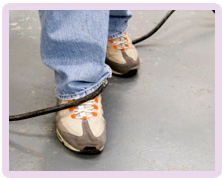 Nurse Injures Back While Helping Patient
While performing her nursing duties one evening, Charlotte noticed an elderly patient had managed to get up and trap himself between his bed and his chair. Realising he was about to fall, she rushed over and lowered him back onto the bed. But as she did so, a pain shot through her back, causing her endless months of suffering.
On the 21st August 2007, Charlotte was nearing the end of her late shift at the Halton Hospital where she was employed as a nurse. The healthy 40 year old was quietly making her way through the ward where most of the patients were already asleep.
As she continued down the corridor, she walked past one of the private rooms. The door had been left open so she glanced in, only to find the patient standing between his bed and his chair. He was in his late eighties, weighted 18 stone and was known to be very unsteady on his feet. In fact, he had already fallen several times while an in-patient at the hospital.
Realising the patient was about to fall once again, Charlotte reacted on impulse and rushed in to help him. She knew that due to his age and his weight another accident could cause significant injury, and she instinctively went to prevent him from toppling over.
At first she clasped her arms around him from the front in an attempt to hold him up. However, being only 5ft 5 inches tall and weighing just 9 stones, Charlotte was unable to support him – the patient was simply too heavy. She therefore twisted him sideways and managed to lower him on to his bed.
However, as she bent forward to lower the patient, Charlotte felt an immediate pain in her back. She tried to ignore it while she calmed the patient down, but by the end of her shift she was in agony. The pain continued to increase over the next few days, spreading to her neck and shoulders.
Charlotte attended her GP, who sadly diagnosed her with Ankylosing Spondylitis – a type of chronic arthritis that affects the spine. She had suffered with this condition in the past, but had until that point been in remission. The news that it had returned therefore came as a bitter blow. She must now take very strong painkillers on a daily basis, and even then regularly requires times off work.
Upset that her arthritis had returned, and knowing it had been caused by her attempt to prevent the patient's fall, Charlotte contact us to talk about making a work accident claim. We suggested that her employer had exposed her to unnecessary risk; the patient had a history of falls and steps should have been taken to reduce this hazard. Furthermore, Charlotte had not been provided with manual handling training, nor was there a safe system of work in place.
We helped Charlotte make a claim for the injuries she sustained while at work and she received £29,495 compensation.
Bookmark This Article?
Can We Help You?
Please call us free on 0800 234 3300 (or from a mobile 01275 334030) or complete our online enquiry form.
Make a Free Enquiry About 'Medical Negligence'
Make a Free Enquiry About A 'Personal Injury Claim'
---
Testimonials
"I would like to take this opportunity to thank you very much for your continued professionalism and the consistantly friendly, approachable manner in which you have handled this claim. This has made all the difference in a situation that has at times been very sensitive and stressful for me.
Once again, many thanks."
Miss B, Norfolk
"Thank you for everything that Glynns did for us to achieve a successful outcome."

Anon

---