Garden Centre Work Accident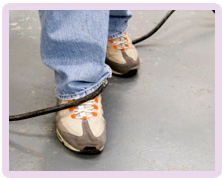 Garden Centre Bench Strikes Employee On The Head
While working at her local garden centre, Molly was asked to arrange a tree display in the outside area. It was an extremely windy day, and unfortunately the pergola benches located nearby were not fixed to the ground. One of them flew up and hit Molly directly on the back of the head, causing her to suffer injury.
On 26 May 2008, Molly was asked by her manager to assist with a tree display in the outside plant area. She and another colleague, Bella, made their way past the hot tub concession to the tree rail. This was located next to three wooden pergola benches.
It was a windy day – something which wasn't especially unusual at the garden centre. Molly and Bella continued to tie trees to the rail until suddenly a severe gust of wind blew over all three pergola benches. The wind was so strong that one of the benches flew up and hit Molly directly on the back of the head and shoulders, knocking her to her knees.
Three male customers ran over and helped pull the bench off of Molly, who was still lying on the ground. Bella called a first aider on the radio, and after a quick assessment decided to call an ambulance. Molly was taken on a spinal board to a nearby hospital, where x-rays were carried out to ensure she hadn't sustained serious internal injury.
Thankfully, Molly was discharged later that day. Even so, she suffered neck and shoulder pain, headaches, dizziness and blurred vision for the following two weeks, forcing her to take time off work. She continues to experience recurring headaches, as well as neck and shoulder pain. This has hindered her day-to-day life, as she finds lifting, carrying or pulling object aggravates her injuries. She is also unable to play with her seven year old as she used to do.
When Molly returned to work, she discussed her accident with a colleague from the shed concession department. He revealed that before the incident occurred, he had spoken to management about the wooden pergolas. He reported them as dangerous, suggesting they should be moved or fixed down to prevent them from being blown over during strong winds. However, it appears management failed to act upon his concerns, leaving the benches in place.
This prompted Molly to consider the possibility of a work accident claim, and she rang Glynns for more information. During a free initial consultation, we advised Molly that her employer was directly responsible for her injuries. They had failed to ensure the pergola benches were bolted to the ground, despite a warning from a member of the team. They therefore failed in their duty to protect the health and safety of their staff, exposing Molly to the risk of injury.
We helped Molly make a work accident claim for the pain, suffering and loss of earnings she had incurred. Her case was soon settled outside of court, and she received £10,000 compensation.
Bookmark This Article?
Can We Help You?
Please call us free on 0800 234 3300 (or from a mobile 01275 334030) or complete our online enquiry form.
Make a Free Enquiry About 'Medical Negligence'
Make a Free Enquiry About A 'Personal Injury Claim'
---
Testimonials
"I would like to take this opportunity to thank you very much for your continued professionalism and the consistantly friendly, approachable manner in which you have handled this claim. This has made all the difference in a situation that has at times been very sensitive and stressful for me.
Once again, many thanks."
Miss B, Norfolk
"Thank you for everything that Glynns did for us to achieve a successful outcome."

Anon

---