Employee Slips On Wet Floor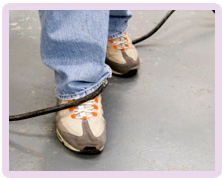 Employee Slips On Wet Floor
When Claire arrived at the office one morning, she passed a cleaner in the corridor who was wiping the floor. There were no warning signs, so she assumed it was safe to continue on her way. Suddenly, however, she slipped on a wet patch and crashed heavily to the floor.
On the morning of 22 February 2008, Claire arrived at her place of employment at 7.45, as she did every day of the week. She walked through the doors into the main reception area alongside her work colleague, Rose. Together, they made their way past the reception desk before turning left down the corridor. Although the lift was located nearby, they decided to take the stairs, as their office was located on the first floor.
Claire and Rose continued to walk down the corridor towards the stairs. They were casually chatting when they noticed a cleaner kneeling to their right on the linoleum floor. He appeared to be wiping a small area of the floor with a cloth; Claire noted this was odd, as it was impractical for the floor to be cleaned while everyone was arriving for work.
However, there was no warning sign and he only seemed to be wiping a small patch of floor. She assumed that perhaps something had been spilt and decided it was safe to proceed on her way to the stairs. She and Rose veered slightly to the left to avoid the area they believed to be wet.
The next thing she knew, Claire slipped and fell heavily onto the floor. Unfortunately, her assumptions had been wrong, and the entire floor was in fact awash and very wet. She was immediately aware of a pain in her groin, left knee, coccyx and lower back. Rose helped her up and supported her as they ascended the stairs.
Claire managed to work for the rest of the day, but she remained in a significant degree of discomfort. This got progressively worse over the next few weeks, while the pain also spread to her arms and legs. She attended physiotherapy sessions, had facet joint injections in her back and was prescribed a course of strong pain-killers. But her treatment provided little relief, and by the following month Claire was forced to work from home. This continued for the following six months, when eventually she felt able to return to the office on a part-time basis.
In the three months after the accident, Claire was very restricted in her day to day activities, and would depend upon help from others. She was particularly reliant on her husband, who had to carry out all the heavier domestic tasks such as vacuuming. Even now, Claire continues to suffer from pain and discomfort, and is unsure as to whether or not her injury will ever fully heal.
Believing her employer was responsible for the pain and suffering she had experienced, Claire contacted Glynns to discuss her case. We advised she was in a position to pursue a work accident claim, as her employer had failed to alert staff to the wet floor. This was a clear breach of duty on the part of her employer. Claire went on to make a successful work accident claim, which was quickly settled for £19,000.
Bookmark This Article?
Can We Help You?
Please call us free on 0800 234 3300 (or from a mobile 01275 334030) or complete our online enquiry form.
Make a Free Enquiry About 'Medical Negligence'
Make a Free Enquiry About A 'Personal Injury Claim'
---
Testimonials
"I would like to take this opportunity to thank you very much for your continued professionalism and the consistantly friendly, approachable manner in which you have handled this claim. This has made all the difference in a situation that has at times been very sensitive and stressful for me.
Once again, many thanks."
Miss B, Norfolk
"Thank you for everything that Glynns did for us to achieve a successful outcome."

Anon

---