Shooting Work Accident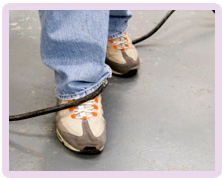 Employee Injured During Shooting Accident
Adam was working at a game shoot when one of the guests slipped while taking a shot, accidentally firing the second barrel into the air. Adam's face, throat, ear and arm were peppered with gunshot, causing him to suffer severe physical and psychological trauma.
Adam was a regular participant in country pursuits and had worked at his local shoot in Somerset for a number of years. He had never been involved in an accident before; however, all that was set to change on the morning of 29 November 2008.
On that particular day the seventy-eight year old had been asked by the shooting club to drive the gun cart, a job he frequently carried out. He was sat on the quad bike some 40 yards behind the guests who had stopped to take a shot. Adam was looking up into the air, watching to see if anything had been hit.
Suddenly, one of the guests aimed his gun upwards, intending to take out a high pheasant. However, as soon as he shot the first barrel he slipped, causing the gun to fall behind him. The second barrel accidentally went off, shooting Adam in the left side of his face. Thankfully he had not been looking directly at the gun when it was fired; even so, lead shot sprayed into his nose, neck, left shoulder, back, left arm and right rib.
Immediately after the accident Adam was rushed to hospital where he received emergency treatment for his wounds. The gunshot had scattered across a wide area of his body and it was difficult to remove. His stayed in hospital for some weeks before being discharged, but even then he had 30 to 40 pieces of shot remaining inside him. There is some uncertainty as to whether all these will ever be extracted, meaning Adam must be checked on a regular basis over the coming years for lead and arsenic poisoning.
Adam also lost the feeling in his lower jaw, which may never return. The most significant injuries were, however, of a psychological nature. Adam found it difficult to sleep at night and required treatment from a psychotherapist to deal with the trauma he had experienced.
A close friend of Adam contacted Glynns to enquire about his legal position. We suggested that his accident was in fact the fault of his employer who had failed to ensure a safe working environment. We helped Adam make a claim for the physical, psychological and financial damages he had incurred as a result of this negligence. Liability was quickly admitted and Adam was awarded £16,000 compensation.
Bookmark This Article?
Can We Help You?
Please call us free on 0800 234 3300 (or from a mobile 01275 334030) or complete our online enquiry form.
Make a Free Enquiry About 'Medical Negligence'
Make a Free Enquiry About A 'Personal Injury Claim'
---
Testimonials
"I would like to take this opportunity to thank you very much for your continued professionalism and the consistantly friendly, approachable manner in which you have handled this claim. This has made all the difference in a situation that has at times been very sensitive and stressful for me.
Once again, many thanks."
Miss B, Norfolk
"Thank you for everything that Glynns did for us to achieve a successful outcome."

Anon

---