Disabled Toilet Accident Claim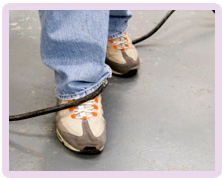 Cinema Employee Dislocates Shoulder
When she was 19 years old, Harriet was employed as a guest assistant at her local cinema. She was cleaning the auditorium after a screening when suddenly the lights turned off. Unable to see where she was going, Harriet slipped on some spilt ice cream and fell to the floor, dislocating her shoulder.
On the afternoon of 28 July 2008, Harriet and her colleague Andy were asked to clean the cinema auditorium. A film screening and just finished and there was litter scattered amongst the seats.
Harriet and Andy placed the rubbish bin at the front of the auditorium, thereby allowing the projectionists (who control the lighting) to know cleaning was underway. Harriet was working her way along the back row, holding rubbish in her left hand and keeping her right hand free for picking up litter.
Then, suddenly and without warning, the lights were switched off. Now in total darkness, Harriet was unable to see what was on the ground around her. She immediately stepped in a pool of spilt liquid and ice cream, causing her to slip and crash to the floor. As she went down, she put her right arm out onto the back of the seats, hoping to break the fall. Unfortunately this did little to prevent injury, and she instantly experienced a severe shooting pain in her right shoulder.
Andy, who was still at the front of the auditorium, asked Harriet if she was alright. But she was so badly hurt, she was unable to respond. Andy ran out to the foyer and sent a message to the projectionists, telling them to turn the lights back on. He returned with one of the managers to find Harriet lying on the floor, unable to pull herself up.
Together they gently assisted Harriet to her feet and took her to the manager's office. She was in a great deal of pain, so her parents picked her up and drove her to the nearest A&E department. After a series of x-rays, the doctors confirmed that Harriet had dislocated her right shoulder. She was immediately given a dose of morphine before her shoulder was repositioned and a special supportive sling fitted.
Harriet continued to suffer over the following months. She was signed off work for two weeks, was unable to sleep due to the pain and needed assistance from her mother when washing and dressing. Her studies were also adversely affected, as she was studying a sport science degree and was unable to perform some of the tasks.
Soon after her accident, Harriet contacted Glynns to discuss the injuries she had sustained. She explained that the projectionist should not have turned off the lights, as the bin was left in their view. This acted as a signal, indicating cleaning was in progress. We agreed that the cinema had failed to provide a safe employee to operate the lighting, which in turn caused Harriet to sustain an injury.
We helped Harriet make a work accident claim for the damage she suffered. The case was quickly settled, and Harriet received £4,250 compensation.
Bookmark This Article?
Can We Help You?
Please call us free on 0800 234 3300 (or from a mobile 01275 334030) or complete our online enquiry form.
Make a Free Enquiry About 'Medical Negligence'
Make a Free Enquiry About A 'Personal Injury Claim'
---
Testimonials
"I would like to take this opportunity to thank you very much for your continued professionalism and the consistantly friendly, approachable manner in which you have handled this claim. This has made all the difference in a situation that has at times been very sensitive and stressful for me.
Once again, many thanks."
Miss B, Norfolk
"Thank you for everything that Glynns did for us to achieve a successful outcome."

Anon

---