Skip Work Accident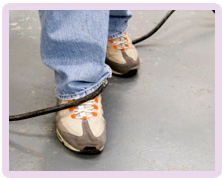 Broken Skips Causes Serious Head Injury
Brian was attempting to unload a skip when the door jammed, forcing him to fix the problem with a hammer. But as he bent over the door suddenly fell on his head, breaking his jaw and causing him months of pain and discomfort.
Brian was a healthy 39 year old who enjoyed an active life with his young family. He worked as a heavy goods vehicle driver and had been employed by the same company for five years. He also held the position of interim skip driver, whereby he would use a vehicle to exchange skips attached to a compacting machine. These skips would be filled with general waste, cardboard and faulty goods waste. Brian had not, however, received proper training for this role. He had simply been asked to observe another employee at the company.
On the morning of 26 February 2009, Brian began a 12 hour shift. His first job was to empty one of the skip containers. He attempted to open the door but found the locking handle was jammed. This happened from time to time, and employees had been told the only way to release it was to hit the side with the hammer. Brian tried this around seven times, but only two out of the three hinges would unlock.
The entire weight of the skip door was now resting upon the middle hinge. Brian bent down to place the hammer on the ground, anticipating that he would attempt to turn the locking handle one more time. As he bent over, however, the one tonne door released and hit him on the left side of the head. Brian immediately experienced an excruciating pain to his left temple. He felt dizzy and unsteady on his feet, and could also hear a high pitching buzzing in his ear.
After a couple of minutes Brian managed to calm himself down and, still in a state of shock, decided to continue with his work duties. He emptied the contents of the skip, collected the paperwork and drove back to the depot. But by the time Brian arrived he was feeling extremely sick and his head was pounding. His colleagues quickly realised he had sustained a head injury and organised a lift to the nearest hospital.
At A&E Brian was diagnosed with a broken jaw. He returned home but found the following week very difficult. He continued to suffer from pain, nausea, headaches, lethargy and a buzzing noise in his head, all of which prevented him from eating, sleeping and playing with his children.
Two weeks later an operation was performed to push the jaw bone back in place, and this has done something to improve Brian's condition. However, he had to remain off work for a significant amount of time, and he could no longer enjoy he hobbies such as walking, mountain biking, racket ball and snooker. These restrictions caused Brian to become depressed, as he was used to leading a busy and active lifestyle.
After contacting Glynns to discuss his accident, Brian decided to seek compensation for his injuries. We advised that employer was directly responsible for his damages, as there was a failure to provide a safe system of work, safe working equipment and suitable training.
We helped Brian make a work accident claim and he was awarded £7,900 compensation.
Bookmark This Article?
Can We Help You?
Please call us free on 0800 234 3300 (or from a mobile 01275 334030) or complete our online enquiry form.
Make a Free Enquiry About 'Medical Negligence'
Make a Free Enquiry About A 'Personal Injury Claim'
---
Testimonials
"I would like to take this opportunity to thank you very much for your continued professionalism and the consistantly friendly, approachable manner in which you have handled this claim. This has made all the difference in a situation that has at times been very sensitive and stressful for me.
Once again, many thanks."
Miss B, Norfolk
"Thank you for everything that Glynns did for us to achieve a successful outcome."

Anon

---