Accident Injury Claim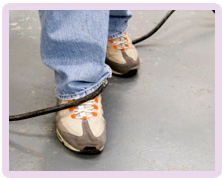 Awning Hits Elderly Woman
Elsie was enjoying a drink in Romford's open air market when she was suddenly struck by a large piece of metal. It had fallen off the café's awning which had not been properly maintained.
One Wednesday morning, Elsie's granddaughter Hannah came to her house and suggested they take a trip into Romford city centre. This is something they often did together and Elsie would look forward to their outings together.
After looking round the shops they headed for Romford market, a large outdoor market regularly held in the town square. It was lunchtime and eighty-five year old Elsie said she needed some refreshments.
They found a table at one of the regular market traders – a café that served tea and food from the side of a van. A large awning was wrapped around the van, under which were tables and chairs so that customers could sit in the shade.
Elsie and Hannah ordered two cups of tea and sat down under the awning to enjoy their drinks. The weather was pleasant although it was slightly windy. They continued to chat until Elsie looked up and saw something move from side to side. Suddenly, this thing fell from the awning and hit her leg.
She felt pain shoot through her knee and she cried out in pain. Hannah helped her and looked to see what had hit her. It turned out to be a large 12 inch long piece of metal which had come loose from the awning.
With Hannah's help, Elsie managed to get a taxi home. She was shocked and upset for several days afterwards and was in so much pain she could not walk. Her knee was extremely swollen and she remained on painkillers for some months.
Knowing that the metal was obviously not secured to the awning, Elsie's granddaughter contacted us at Glynns to discuss whether she could take any action against the café responsible.
We suggested that the café had failed to ensure the awning was properly maintained and therefore failed to have any sufficient regard for the safety of Elsie and the other customers. We advised this amounted to negligence and that Elsie would consequently be entitled to compensation for the pain and suffering this had caused her.
After talking it through with one of our solicitor's, Elsie decided that she would like to proceed with a personal injury claim and we helped her obtain £3,000 compensation.
Bookmark This Article?
Can We Help You?
Please call us free on 0800 234 3300 (or from a mobile 01275 334030) or complete our online enquiry form.
Make a Free Enquiry About 'Medical Negligence'
Make a Free Enquiry About A 'Personal Injury Claim'
---
Testimonials
"I would like to take this opportunity to thank you very much for your continued professionalism and the consistantly friendly, approachable manner in which you have handled this claim. This has made all the difference in a situation that has at times been very sensitive and stressful for me.
Once again, many thanks."
Miss B, Norfolk
"Thank you for everything that Glynns did for us to achieve a successful outcome."

Anon

---