Work Accident Claims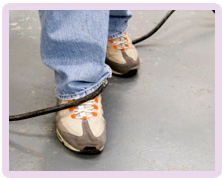 Workplace Injury Sustained During Skip Removal
Colin was a supervisor in a metal yard when a skip got stuck while being loaded onto the back of a wagon. He tried to help the driver re-attach the chains which had fallen off, but he fell and hurt his head.
Colin worked for a company that manufactured blades for JCB machines for around fifteen years, and had worked his way up until he was made yard supervisor. In was during this time that Colin was asked by an executive director of the company to oversee the removal of a skip in the yard.
The skips, which were full of scrap metal, were regularly removed by an external company. However, the driver had run into problems while loading it onto the back of a wagon, as the front two chains had come off, leaving it hanging off the rear of the vehicle. Colin agreed to help, even though it was not this was not part of his job description.
Upon seeing the situation in the yard, Colin noted that the skip was in a precarious position, and he was concerned someone would get injured. He asked another member of staff to fetch a four tonne forklift, which was then placed underneath the hanging skip in order to support its weight.
It was decided that the only way to resolve the situation was to replace the front chains which had accidentally fallen off. To do this, Colin would have to stand on the forks of the forklift truck, which were about two feet from the ground. This would then allow him to reach the chains.
He made everyone aware of his intentions and began to climb onto the forks. However, he lost his balance and fell to the ground, sustaining serious injury to his face. Colin was taken straight to hospital, where he had seven stitches to his eye and ten stitches to his cheek, both of which have resulted in obvious scarring. Additionally, since his accident he has experienced a ringing noise in his ears.
Colin had to take five weeks off work because of his accident, during which he was unable to drive and required assistance from his parents. After contacting Glynns, we advised Colin that he could make a personal injury claim, as his employer had failed to take reasonable care of him – both by creating a hazardous situation and failing to train him properly. We helped negotiate a settlement on Colin's behalf, and he received £4,500 compensation.
Bookmark This Article?
Would You Like Assistance from Specialist Accident At Work Claim Solicitors?
Having suffered injury you now want to be handled professionally, competently and efficiently by solicitors who communicate in straightforward and friendly terms and who specialise in the field of injury law.
If you would like to benefit from a service of excellence with total commitment to client care from a friendly team, Glynns are ready and waiting to help you.
Please call us on 0800 234 3300 (or from a mobile 01275 334030) or complete our Online Enquiry Form.

---
Testimonials
"I would like to take this opportunity to thank you very much for your continued professionalism and the consistantly friendly, approachable manner in which you have handled this claim. This has made all the difference in a situation that has at times been very sensitive and stressful for me.
Once again, many thanks."
Miss B, Norfolk
"Thank you for everything that Glynns did for us to achieve a successful outcome."

Anon

---