Work Accident Solicitors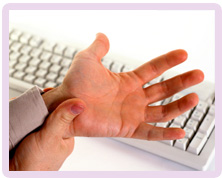 Workplace Accident
Boiling Water Burns
Mr De S from Brazil was working in the kitchen of a pub as a trainee chef. Whilst he was working on the day of the accident a waitress noticed that the hot water machine which was always on was bubbling over. She asked Mr De S to help her empty some of the water out. Our client assumed the safety device to keep the lid on was in place, but as he moved the pan it slipped and emptied its contents all over our client's lap, legs and his right arm. He attempted to remove some of his clothing and put cold water on the burns but had limited success. An ambulance crew attended the scene of the accident and gave him first aid.
He was taken to Chelsea and Westminster Hopsital and was treated for seven hours in the burns unit.
Mr De S was discharged but could not leave his home for 14 days due to the pain and being advised to keep the burns out of direct sunlight. The pain caused him to lose sleep on a regular basis.
We obtained medical evidence that confirmed our client had suffered first degree to superficial burns affecting the whole of his right thigh, patches on the front of his left thigh, patches around his left knee and upper shin, the right elbow and forearm and an area above his waist. The burns initially covered 8% of his body but most healed, leaving him with only 1% of permanent scarring. He was expected to make a full recovery from the burns approximately 18 months after the accident.
We negotiated a settlement of £5,000 for Mr De S and his legal costs were paid in addition to his compensation.
Would You Like Assistance from Specialist Workplace Accident Claim Solicitors?
Having suffered injury you now want to be handled professionally, competently and efficiently by solicitors who communicate in straightforward and friendly terms and who specialise in the field of injury law.
If you would like to benefit from a service of excellence with total commitment to client care from a friendly team, Glynns are ready and waiting to help you.
Please call us on 0800 234 3300 (or from a mobile 01275 334030) or complete our Online Enquiry Form.

---
Testimonials
"I would like to take this opportunity to thank you very much for your continued professionalism and the consistantly friendly, approachable manner in which you have handled this claim. This has made all the difference in a situation that has at times been very sensitive and stressful for me.
Once again, many thanks."
Miss B, Norfolk
"Thank you for everything that Glynns did for us to achieve a successful outcome."

Anon

---