Work Accident Claims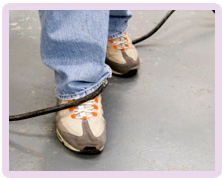 Thumb Trapped While Loading A Trailer
While he was working as a home-delivery driver, Andy would always begin his shift by loading a container onto the back of a trailer. He was doing so one morning when he was unable to move the legs of the container. He continued to force the leg when all of a sudden it released, trapping his thumb in the process.
Every morning when he arrived at work, Andy would locate the wagon he would be driving for the day. He would then have to take this over to a specified container, known as a 'box', and load it onto a trailer attached to the back of the wagon.
In order to load a box, Andy would reverse his wagon in front of it before using the control panel to engage the ram – a tool which lifts the box (which would normally stand on four legs) into the air. It would then be necessary to get out the driver's cab to manually fold the front legs, pushing a trigger to release them. The wagon would then be reversed a little more, and the same process applied to the back legs of the box, meaning they were all locked in position underneath the container.
However, both Andy and his colleagues had experienced problems with the box legs, many of which were extremely stiff. Consequently, there had been a number of occasions whereby the driver's could not move the legs up or down, forcing them to use a metal bar – either to lever the leg downwards, or to hit it upwards.
On the day in question, Andy had almost finished loading the box onto the trailer, having only to lift the legs at the back. He successfully folded the right leg underneath, and proceeded to do the same to the left leg. He pulled on the trigger, but the leg was too stiff to move. There was nobody else in the yard at the time, so Andy continued to push the leg on his own. Suddenly, on his third attempt, the leg released and locked close, trapping his left thumb.
He was immediately in an extreme amount of pain, and after removing his protective glove he saw his thumb was bleeding a great deal. Andy quickly sought medical attention from his manager, who decided he needed to be driven to A&E. In hospital, an X-ray revealed he had in fact suffered a hairline fracture and chipped the bone.
Due to his injury, Andy had to take six months off work, and was only able to perform light duties when he did return. He continues to suffer from his injuries, as his thumb remains stiff and hurts if pressure is applied. This consequently makes a number of everyday tasks difficult, including doing up shirt buttons.
After discussing his work accident with Glynns, we advised Andy he could make a personal injury claim, based on the fact his employers failed to ensure working equipment was adequately maintained.
We negotiated a settlement for Andy's claim, and he was awarded £2,800 compensation.
Bookmark This Article?
Would You Like Assistance from Specialist Accident At Work Claim Solicitors?
Having suffered injury you now want to be handled professionally, competently and efficiently by solicitors who communicate in straightforward and friendly terms and who specialise in the field of injury law.
If you would like to benefit from a service of excellence with total commitment to client care from a friendly team, Glynns are ready and waiting to help you.
Please call us on 0800 234 3300 (or from a mobile 01275 334030) or complete our Online Enquiry Form.

---
Testimonials
"I would like to take this opportunity to thank you very much for your continued professionalism and the consistantly friendly, approachable manner in which you have handled this claim. This has made all the difference in a situation that has at times been very sensitive and stressful for me.
Once again, many thanks."
Miss B, Norfolk
"Thank you for everything that Glynns did for us to achieve a successful outcome."

Anon

---