Slipping Work Accident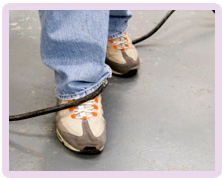 Slipping Accident Compensation Claim
We acted for a 25 year old lady called Marie who was involved in a slipping accident at work.
Immediately prior to our Marie's accident she had been working in her office which was situated near to her employer's main customer reception area. She was in the process of walking from her office to the staff room which meant she had to walk behind the reception counter. Marie had just walked behind the counter when she slipped on a recently mopped floor and fell to the ground. She only found out subsequently that the floor had recently been mopped by her employer's cleaner and no warning signs had been put out. As a result of her accident Marie sustained a soft tissue and muscular injury to her lower back.
A letter of claim was sent to the employer within four months of the accident taking place and at that time Marieremained symptomatic. We received an admission of liability within three months of the letter of claim being sent.
Apart from the claim for pain, suffering and loss of amenity, the claim also included a small amount for loss of bonus (Marie was paid her basic monthly pay for the ten days she was off work as a result of the accident) including some care and assistance together with travel and treatment costs. We were able to recover the vast majority of the expenses claimed.
Aside from Marie's physical injuries she also suffered an adverse psychological reaction as a result of the accident and we obtained supportive medical evidence from a consultant clinical psychologist together with a report from a consultant orthopaedic surgeon in respect of the lower back injury.
Marie's claim settled just over twelve months after we had received the admission of liability for just over £5,000.00.
Bookmark This Article?
Would You Like Assistance from Specialist Accident At Work Claim Solicitors?
Having suffered injury you now want to be handled professionally, competently and efficiently by solicitors who communicate in straightforward and friendly terms and who specialise in the field of injury law.
If you would like to benefit from a service of excellence with total commitment to client care from a friendly team, Glynns are ready and waiting to help you.
Please call us on 0800 234 3300 (or from a mobile 01275 334030) or complete our Online Enquiry Form.

---
Testimonials
"I would like to take this opportunity to thank you very much for your continued professionalism and the consistantly friendly, approachable manner in which you have handled this claim. This has made all the difference in a situation that has at times been very sensitive and stressful for me.
Once again, many thanks."
Miss B, Norfolk
"Thank you for everything that Glynns did for us to achieve a successful outcome."

Anon

---