Work Accident Claims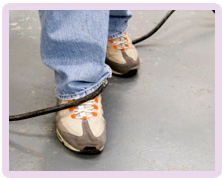 Lifting Accident Leads To £27,000 Compensation Claim
We acted for a man by the name of John who received an injury whilst carrying a photocopier at work. His colleague slipped whilst helping him carry the heavy equipment, causing damage to John's spine.
John worked as a delivery and installation operative in 2008, when he suffered his injury. Usually, John would have an experienced colleague working alongside him, but today he was working with Tony, who had just started working for the company the day before. John had been assigned to deliver a photocopier to the buildings of the local council and pick up the old one, which had broken down. He had already delivered a photocopier earlier that day without any problems.
When John went to lift the photocopier and place it onto a separate dolly, he found it to be quite a big machine which probably needed four men to lift it. John then asked Tony to practice lifting the box to see if they could both take the weight. Both men managed to lift the photocopier onto the dolly.
After being shown to the old photocopier and removing it from its pedestal, John and Tony then needed to lift the new machine on to the same pedestal. They agreed to do it in one swift move, and moved to the right whilst holding the machine to line it up with the pedestal. It was while they were doing this that Tony lost his footing, leading to John being jolted forward and a sharp pain across the bottom of his spine, spreading to his right buttock and thigh. John was in so much pain that he could not complete his duties for the day and, when the pain did not ease, he sought the advice of a GP who gave him two weeks off sick.
After John's injury failed to improve he paid for a private x-ray, where he found out that he had a sustained a right central lateral disc protrusion which was compressing the right L5 nerve root in his spine, which required a microsurgical lumbar decompression. The surgery went well, but unfortunately John suffered a stroke the day after, affecting his speech and left side. John also fears he may not be able to return to work due to his back pain and limited ability to walk.
Left frustrated and upset by the effects of the incident, John contacted us to discuss his options. On the grounds that, among others, John's employer failed to provide a safe and adequately trained employee for him to work with, we assisted John in making a claim, resulting in him being awarded £27,000 compensation.
Bookmark This Article?
Would You Like Assistance from Specialist Accident At Work Claim Solicitors?
Having suffered injury you now want to be handled professionally, competently and efficiently by solicitors who communicate in straightforward and friendly terms and who specialise in the field of injury law.
If you would like to benefit from a service of excellence with total commitment to client care from a friendly team, Glynns are ready and waiting to help you.
Please call us on 0800 234 3300 (or from a mobile 01275 334030) or complete our Online Enquiry Form.

---
Testimonials
"I would like to take this opportunity to thank you very much for your continued professionalism and the consistantly friendly, approachable manner in which you have handled this claim. This has made all the difference in a situation that has at times been very sensitive and stressful for me.
Once again, many thanks."
Miss B, Norfolk
"Thank you for everything that Glynns did for us to achieve a successful outcome."

Anon

---