Work Accident Claims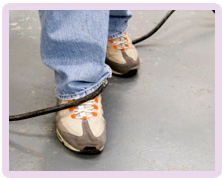 Lack of Training Leads to Neck Injury
Julia was working at a London care home when she was asked to polish a bathroom floor. This required using a new piece of equipment, even though she had not been given any training in how to use it.
On the morning of 22 June 2007, Julia was told by the Matron of the care home that the wooden floor in the nursing bathroom needed to be stripped. As Julia was Head of Housekeeping, she would normally delegate this task to two of the domestic staff. However, the team was smaller than usual at that time, and so Julia decided to step in as the second pair of hands.
She and another colleague, Sarah, set to work on their task. Sarah applied water to the bathroom floor with a mop while Julia used a polisher to strip the wood, moving the machine from side to side across the floor.
This machine was, however, brand new, and the staff had been given no training in how it should be used. Consequently, Julia found it very difficult to handle, as every time the machine touched the skirting boards it would shoot sharply away. This meant she had to maintain a very firm grip, putting enormous strain on her arms, neck and shoulders.
Julia found the job exhausting, and continued to feel this way for the rest of her shift. When she got up for work the next day she was no less fatigued, and had a sudden onset of pain in the right side of her neck.
The discomfort worsened over the course of her shift, and she was unable to assist the other staff with any of the domestic chores. As she had the weekend off, Julia took to bed as soon as she got home and rested. Nevertheless, her condition deteriorated and eventually her neck locked, meaning she could hardly move.
By this point the pain was excruciating, and after attending her GP, Julia was given some painkillers and signed off work. However, her symptoms did not alleviate, and she was sent to hospital for X-rays. It was confirmed she had damaged the muscles in her neck and would need physiotherapy by way of treatment.
Julia was then advised she should not return to work until her condition had improved. This caused her great concern, as the care home she worked for only paid statutory sick pay. This meant she was losing a significant amount in terms of wages, something which could not fail to have a devastating impact financially.
Julia felt her employers were being incredibly unfair, particularly as she had suffered an injury while at work. She contacted Glynns to see if there was any action she could take. We advised she could make a work accident claim, as staff should have been trained in how to use the new floor polisher. Had training been provided, it is highly probable Julia's injuries would never have happened.
Glynns helped negotiate a settlement for Julia's claim, and she was awarded £10,000 compensation.
Bookmark This Article?
Would You Like Assistance from Specialist Accident At Work Claim Solicitors?
Having suffered injury you now want to be handled professionally, competently and efficiently by solicitors who communicate in straightforward and friendly terms and who specialise in the field of injury law.
If you would like to benefit from a service of excellence with total commitment to client care from a friendly team, Glynns are ready and waiting to help you.
Please call us on 0800 234 3300 (or from a mobile 01275 334030) or complete our Online Enquiry Form.

---
Testimonials
"I would like to take this opportunity to thank you very much for your continued professionalism and the consistantly friendly, approachable manner in which you have handled this claim. This has made all the difference in a situation that has at times been very sensitive and stressful for me.
Once again, many thanks."
Miss B, Norfolk
"Thank you for everything that Glynns did for us to achieve a successful outcome."

Anon

---