Work Accident Claims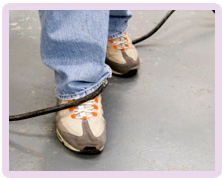 £30,000 For Injury Suffered On Construction Site
Peter was 58 years old and working as a foreman for a construction company when he sustained a nasty injury to his right foot.
He was undertaking a job with another colleague, Andrew, in which they were required to put new bus lane signs up on lampposts in order to indicate that motorcycles could now use bus lanes. The contract stipulated that the job had to be completed within the next few days, so the colleagues knew it would be a rush job.
After arriving at the site, Peter climbed out of the van to collect road safety signs from the side of the van, in order to indicate to motorists that work was being undertaken at the site. However, without warning, Andrew then started the machinery which operates two hydraulic metal legs, used to stabilise the van. As Peter was still collecting the safety signs from the side of the van, one of the legs came down on his right foot, causing him agony. Andrew did not initially hear Peter's shouts, leaving the flat metal foot attached to the hydraulic leg pressed down on Peter's foot until Andrew heard him and stopped the machinery.
Peter was then driven back to the office by Andrew, where the incident was verbally reported to Karen, who is responsible for all health and safety issues within the company. After being taken to hospital, Peter was given an x-ray and informed that he had suffered crushing and bruising to the foot, including multiple fractures to the fifth metatarsal. His foot was given a plaster cast, although this had to be removed the following day due to a substantial amount of swelling. Peter was advised to go home and keep his foot elevated for around eight weeks.
Two months after the incident, Peter was visiting his daughter whilst wearing a surgical boot on his injured foot. During the visit, his right leg gave way and he fell, hitting his head as he did so and injuring the tendons in his hand as he tried to break his fall. If it had not been for the damage sustained in the initial accident, Peter would have not suffered these subsequent injuries, and is now receiving physiotherapy treatment for both his right foot and right hand.
After contacting Glynns and discussing his situation with us, we advised Peter he could make a claim, due to, among other reasons, Andrew's lack of training in operating the hydraulic legs and his fail in checking whether it was safe to start activating the machine.
We negotiated a settlement for Peter's claim, and he was awarded £30,000 compensation.
Bookmark This Article?
Would You Like Assistance from Specialist Accident At Work Claim Solicitors?
Having suffered injury you now want to be handled professionally, competently and efficiently by solicitors who communicate in straightforward and friendly terms and who specialise in the field of injury law.
If you would like to benefit from a service of excellence with total commitment to client care from a friendly team, Glynns are ready and waiting to help you.
Please call us on 0800 234 3300 (or from a mobile 01275 334030) or complete our Online Enquiry Form.

---
Testimonials
"I would like to take this opportunity to thank you very much for your continued professionalism and the consistantly friendly, approachable manner in which you have handled this claim. This has made all the difference in a situation that has at times been very sensitive and stressful for me.
Once again, many thanks."
Miss B, Norfolk
"Thank you for everything that Glynns did for us to achieve a successful outcome."

Anon

---