Work Accident Claims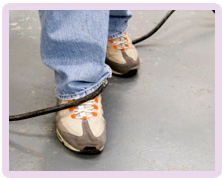 Hand Injury in the Workplace
While she was studying for an NVQ in Childcare Studies, Tanya would regularly attend a local nursery as part of a work placement. One morning she was assisting in an art activity when she recognised a child was at risk from a falling object. She put her hand out to protect him from harm, causing herself to suffer an injury in the process.
When she was 16, Tanya started a college course in Childcare Studies. As there were only lessons on a Friday, she was able to use the rest of the week to attend a work placement at a nearby nursery school. Although her duties would vary from day to day, she was essentially there to help staff look after the children, who aged between 6 weeks and 5 years old.
One morning Tanya was helping care for the 4-5 year olds. An art activity had been scheduled, and the room leader went to fetch a large roll of paper from the staff room. Upon returning, the leader stood the heavy roll (which was about one metre high and 3-4 inches thick) on its end and propped it against a table.
During this time, Tanya was sat on the floor with the children who were playing and running round the room. Their movement caused the roll of paper to begin slipping, and to Tanya's horror she realised it was about to fall onto a 4 year old boy called Harry.
In order to protect him, she quickly lent over to catch hold of the roll. However, as she did so Tanya realised it was much heavier than she had anticipated. She was only able to hold it until a member of staff had moved Harry out of the way. The roll of paper then became too much to bear and Tanya dropped it onto the floor, crushing her right hand against the floor.
Initially she continued with her work, but soon realised her fingers were very swollen and painful. Tanya was taken to hospital, where an X-ray revealed her two middle fingers were broken. They were strapped and put in a splint for two weeks and a 'tubigrip' for another two weeks.
After two months Tanya had one last X-ray, which confirmed her injuries had healed. Even so, her middle finger remains crooked and can be difficult to bend, particularly during cold weather.
Furthermore, while her fingers were in a splint, Tanya's life became restricted. She did not feel able to attend college, could not carry out her duties at the nursery, and was forced to ask her mother for help with everyday tasks such as washing and dressing.
Tanya felt that her injury could have been prevented had the roll been placed on its side, rather than on its end. She contacted Glynns to discuss her case, and it became clear the nursery was responsible for the accident, as there was a failure to provide a safe environment in which to work. We helped Tanya make a personal injury claim, and she received £3,400 in compensation.
Bookmark This Article?
Would You Like Assistance from Specialist Accident At Work Claim Solicitors?
Having suffered injury you now want to be handled professionally, competently and efficiently by solicitors who communicate in straightforward and friendly terms and who specialise in the field of injury law.
If you would like to benefit from a service of excellence with total commitment to client care from a friendly team, Glynns are ready and waiting to help you.
Please call us on 0800 234 3300 (or from a mobile 01275 334030) or complete our Online Enquiry Form.

---
Testimonials
"I would like to take this opportunity to thank you very much for your continued professionalism and the consistantly friendly, approachable manner in which you have handled this claim. This has made all the difference in a situation that has at times been very sensitive and stressful for me.
Once again, many thanks."
Miss B, Norfolk
"Thank you for everything that Glynns did for us to achieve a successful outcome."

Anon

---