Work Accident Claims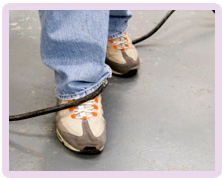 Hairline Wrist Fracture
Jeremy was involved in a slipping accident at work. At the time of Jeremy's accident he was carrying a large box of motor parts from the warehouse floor to the 1st floor of his employer's premises. Jeremy did not have anyone to help him in performing this task and, in addition, he was unable to see over the top of the box due to its size.
Just as Jeremy had nearly reached the top of the steps, he slipped on some oil and fell backwards to the bottom of the steps, landing on his right arm.
Jeremy's accident was witnessed by one of his fellow workers and an entry was put in the accident record book. Jeremy was taken to hospital complaining of severe pain in his right wrist. After examination and X-ray at the local Accident and Emergency department a hairline fracture of his right wrist was diagnosed and a plaster cast applied.
Jeremy asked Glynns to help him claim compensation for his work accident claim a couple of months after the accident had taken place. We contacted Jeremy's employer and shortly after doing so their insurance company admitted responsibility for the accident.
Due to the nature of the injury sustained (i.e. a fracture) we waited 12 months to obtain medical evidence as this allowed the orthopaedic surgeon to consider any potential complications such as osteoarthritis.
At the time Jeremy went to see the orthopaedic surgeon his symptoms had greatly improved and the intermittent discomfort that Jeremy continued to experience on occasion in his wrist would, in the expert's opinion, fully resolve spontaneously and within a short space of time.
Jeremy's claim for compensation in respect of his injuries settled for £4,000.00.
Bookmark This Article?
Would You Like Assistance from Specialist Accident At Work Claim Solicitors?
Having suffered injury you now want to be handled professionally, competently and efficiently by solicitors who communicate in straightforward and friendly terms and who specialise in the field of injury law.
If you would like to benefit from a service of excellence with total commitment to client care from a friendly team, Glynns are ready and waiting to help you.
Please call us on 0800 234 3300 (or from a mobile 01275 334030) or complete our Online Enquiry Form.

---
Testimonials
"I would like to take this opportunity to thank you very much for your continued professionalism and the consistantly friendly, approachable manner in which you have handled this claim. This has made all the difference in a situation that has at times been very sensitive and stressful for me.
Once again, many thanks."
Miss B, Norfolk
"Thank you for everything that Glynns did for us to achieve a successful outcome."

Anon

---