Work Accident Claims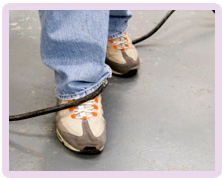 Fractured Right Wrist
Tony suffered an accident whilst in the course of his work duties, but not on premises owned or occupied by his employer.
Tony worked for a company involved in lift installation and immediately before his accident took place he had just finished installing a stairlift on premises owned and run by one of his company's customers.
Tony was standing at the top of the steps leaning on a wooden balustrade when suddenly and without any warning the balustrade collapsed and Tony fell backwards over the top of the balustrade and fell heavily to the floor, several feet below. As he fell, he put out his right hand instinctively and as a result of that suffered a broken right wrist as all his weight landed upon it.
When we contacted the customer with details of the claim they did not accept responsibility for it, arguing that Tony had contributed to the accident himself by leaning on the balustrade and that it had not been designed to be leant on (despite there being no warnings with regard to that on the balustrade itself). In addition, they were of the view that they could have done nothing to prevent the accident taking place and that essentially it was a pure accident with no-one, other than perhaps Tony, to blame for it.
We remained confident that Tony's claim would ultimately be successful and continued therefore to fund the claim on a "no win no fee" basis. We gathered the necessary evidence in support of Tony's claim and obtained medical evidence to confirm the extent of his injuries.
Tony himself made a good recovery from his injuries and, indeed, was unable to take any time off work because he couldn't afford to do so. He was, however, as one would expect, unable to perform all aspects of his work for several weeks after the incident had taken place.
Approximately eight months after the accident, Tony was still experiencing some symptoms, which were mainly confined to an aching in the wrist and some problems when trying to lift heavy objects or when performing a repetitive job. Nevertheless, the opinion of our orthopaedic expert was that Tony would make a full recovery, potentially being left with some occasional discomfort in his wrist.
Once we were in possession of this supportive medical evidence, we disclosed it to the insurance company and at the same time made a formal offer of settlement, advising the third party that if settlement of our client's claim could not be achieved then we would be commencing Court proceedings. We managed to persuade the insurance company to settle Tony's claim for £4,300.00. Tony kept all of his compensation with our charges being paid by the insurance company. Note - the law changed in April 2013 so that this may no longer be the case for claims made after this date.
Bookmark This Article?
Would You Like Assistance from Specialist Accident At Work Claim Solicitors?
Having suffered injury you now want to be handled professionally, competently and efficiently by solicitors who communicate in straightforward and friendly terms and who specialise in the field of injury law.
If you would like to benefit from a service of excellence with total commitment to client care from a friendly team, Glynns are ready and waiting to help you.
Please call us on 0800 234 3300 (or from a mobile 01275 334030) or complete our Online Enquiry Form.

---
Testimonials
"I would like to take this opportunity to thank you very much for your continued professionalism and the consistantly friendly, approachable manner in which you have handled this claim. This has made all the difference in a situation that has at times been very sensitive and stressful for me.
Once again, many thanks."
Miss B, Norfolk
"Thank you for everything that Glynns did for us to achieve a successful outcome."

Anon

---