Work Accident Claims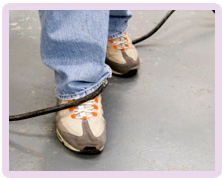 Faulty Desk Causes Injury At Work
Hannah was helping a work colleague when the desk she was leaning on collapsed, causing her to crash to the floor. She has since suffered on-going pain in her shoulder and arm, an injury which continues to affect her everyday life.
When she was 24, Hannah enjoyed full-time employment at Nationwide Building Society, where she worked in an administrative role. She was at the office as usual one November morning when new phones were delivered and installed. Everyone was given paper instructions explaining how the updated telephone system worked. This, however, caused something of a problem for one of Hannah's colleagues, who was visually impaired. In order to help her, Hannah took it upon herself to read through the paper instructions, leaning across her colleague's desk to do so.
Nevertheless, it must be noted that due to this lady's disability, special arrangements had been made to assist her in her work. One such measure was a desk with an extended section, which was fixed between the desk and a chest of drawers. This part of the desk was thought to be just as stable as the rest, and so Hannah leant across it, shifting her weight onto her right arm and shoulder.
Suddenly, the desk extension gave way and shot downwards to the floor. Hannah fell backwards, hitting her head against a wall and banging her right arm. A small scanner that was on the desk also dropped on top of her.
Initially, Hannah thought she was unscathed and returned to work. However, as the day progressed she began to feel increasingly unwell. She developed a bad headache, felt very sick and was bruised all down her right arm. Another employee drove her to a walk in centre, where she was told she had mild concussion and sent home.
Throughout the night there was no improvement to her condition, and so the next day Hannah attended her GP surgery. She was then informed she had badly bruised her right arm and the muscles in her shoulder and neck, while she had also torn some ligaments in her back. This was making her right side very stiff, causing her a large amount of pain.
As a result of her injury, Hannah was unable to drive for two weeks, forcing her to rely on her Mother for transport. She was not capable of carrying out a number of everyday tasks, such as walking the dogs and pushing a supermarket trolley, and did not feel well enough to return to work for another two months. Even when she did go back to the office, she was only able to work part-time, as she had not fully recovered from her injuries.
Hannah was upset about her accident, particularly as soon after the incident it was found the screws in the desk had in fact been incorrectly fixed, being inserted upwards rather than downwards. This had caused the structure to weaken, directly causing Hannah's accident and subsequent symptoms.
After discussing her case with Glynns, Hannah decided to make a personal injury claim. We helped negotiate a settlement, and she was awarded £5,000 compensation.
Bookmark This Article?
Would You Like Assistance from Specialist Accident At Work Claim Solicitors?
Having suffered injury you now want to be handled professionally, competently and efficiently by solicitors who communicate in straightforward and friendly terms and who specialise in the field of injury law.
If you would like to benefit from a service of excellence with total commitment to client care from a friendly team, Glynns are ready and waiting to help you.
Please call us on 0800 234 3300 (or from a mobile 01275 334030) or complete our Online Enquiry Form.

---
Testimonials
"I would like to take this opportunity to thank you very much for your continued professionalism and the consistantly friendly, approachable manner in which you have handled this claim. This has made all the difference in a situation that has at times been very sensitive and stressful for me.
Once again, many thanks."
Miss B, Norfolk
"Thank you for everything that Glynns did for us to achieve a successful outcome."

Anon

---