Work Accident Claims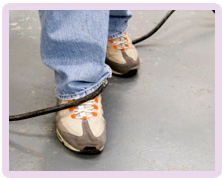 Fall Causes Employee Serious Leg Injury Leads To £145,000 Compensation Claim
After falling over an uneven floor at work, Marcia broke her leg in three places. She consequently suffered four and a half years of pain, countless surgical procedures and life-long complications.
On the morning of 15th April 2007, Marcia walked to her local convenience store where she was employed as a shop assistant. She had worked there for over six years and had been asked to open the shop at 8am. At around 9.30am a customer came in and asked for a packet of cigarettes. Marcia turned around to pick some off the shelf but suddenly found herself falling to the ground. She was unable to get up and, to her horror, realised that bones were protruding from both sides of her lower right leg. Her foot was floppy and blood was pouring out.
Seeing how badly injured she was, the customer telephoned for an ambulance. The paramedics were shocked by what they saw and asked Marcia if she had been attacked. She then explained what had happened: the floor behind the counter was false and constructed only of wafer board. It was not supported properly and would bend when anyone walked over it. A dip had gradually developed over time, and her foot had fallen into it, causing her to lose her balance and topple over.
After being given morphine, Marcia was rushed to hospital where an x-ray revealed she had broken three bones in her leg. She was taken straight to theatre where surgeons inserted an eight inch plate and seven pins. However, after four months doctors informed Marcia that there had been no new bone growth. This came as a bitter disappointment: she had been rendered immobile since the accident, relying on her husband and 14 year old daughter to help her wash, dress, cook and carry out the household chores. She could do little but sit on the sofa and she was desperate to return to normal.
She subsequently underwent another operation to have an external fixator applied. But sadly things did not improve for Marcia for the next four and a half years. The fixator rod caused continual infections, but nevertheless remained in situ for another eight months. Once removed it was replaced with a pot that encased Marcia's leg and this remained in place for the next year. After the pot was taken off doctors realised an infection had caused the new bone to disintegrate, necessitating a steel rod to be inserted. This extended from the knee down to the ankle and helped stabilise the leg. The steel rod finally enabled the bone to knit together once again, but because of an infection had to be removed 18 months later.
After nearly five years of operations and hospital visits, Marcia is now able to move around with the aid of a crutch. Her leg continues to be very weak and she is by no means fully recovered. During this time she has been unable to live her life: she has been in constant pain and has barely been able to move by herself, let alone work, shop, walk the dog, carry out domestic chores or look after her two teenage children. Her husband, elderly father and daughter have had to take on all her responsibilities.
This prolonged period of pain and suffering has understandably been a considered source of distress to Marcia and her family. Their lives were entirely turned upside down because of her injury, and it is unlikely things will ever be the same again. It is for that reasons that Marcia decided to contact us about a claim. She knew her employer had not provided a safe working environment and complaints had already been made about the floor behind the counter.
We agreed that Marcia has sustained terrible injuries as a result of her employer's failings. We therefore helped her make a personal injury claim which was settled for £145,000.
Bookmark This Article?
Would You Like Assistance from Specialist Accident At Work Claim Solicitors?
Having suffered injury you now want to be handled professionally, competently and efficiently by solicitors who communicate in straightforward and friendly terms and who specialise in the field of injury law.
If you would like to benefit from a service of excellence with total commitment to client care from a friendly team, Glynns are ready and waiting to help you.
Please call us on 0800 234 3300 (or from a mobile 01275 334030) or complete our Online Enquiry Form.

---
Testimonials
"I would like to take this opportunity to thank you very much for your continued professionalism and the consistantly friendly, approachable manner in which you have handled this claim. This has made all the difference in a situation that has at times been very sensitive and stressful for me.
Once again, many thanks."
Miss B, Norfolk
"Thank you for everything that Glynns did for us to achieve a successful outcome."

Anon

---