Work Accident Claims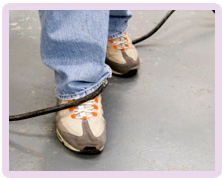 Failure To Provide Appropriate Equipment Leads To Back Injury
Jean was employed as a section manager at a popular high street store when she was asked to assist with the reorganisation of the shop floor. However, the piece of lifting equipment needed to perform this job had gone missing, and she was forced to complete the task manually. Jean soon started to suffer back pain, an injury which persisted for over a year.
During an early shift one September morning, Jean and five other members of staff were making room to accommodate the new seasons clothing. This necessitated moving several displays slabs, which are heavy, rectangular stands with smooth edges and no wheels.
Due to their size and shape, these slabs are very awkward to move. There is, therefore, purpose made equipment specially designed to transport them around the shop. Nevertheless, this specialist piece of equipment had gone missing from the store and had never been replaced. Consequently, Jean and her colleagues had to use their own strength alone, even though this posed a risk to their safety.
As she was pushing one of the slabs, Jean suddenly experienced a sharp pain in her lower back. This caused her great concern, as just one year before she had undergone surgery to replace a disc in her spine. Anxious that she had aggravated her condition, Jean informed the manager, and she was sent home from work early.
When she woke up the next day, Jean was barely able to move because of the pain. She remained bed-ridden and could not return to work. Growing increasingly worried, she rang the consultant surgeon who had carried out the disc replacement, and X-rays were promptly organised. Thankfully, there were no signs of damage, but Jean was advised she would need physiotherapy.
Even so, Jean's condition deteriorated over the next two months. She remained in a significant amount of pain, and more diagnostic tests were performed. It was then discovered she had in fact suffered facet joint damage, something which required Jean to undergo a series of injections to her lower back. As a result, she was only able to return to work intermittently for a number of months, and even then could only perform light duties.
After a consultation with her employers, it was agreed Jean would work reduced hours. This work plan, along with regular sessions of physio, meant she gradually began to improve. By July she was feeling much better, although her progress was soon hindered when a new store manager was employed. Indeed, Jean's new boss failed to have any sympathy for her back injury, forcing her to work long and physically demanding shifts. The pain in Jean's back quickly returned, and she needed another series of injections, some of which had to be performed under sedation.
Jean's back problems continued to get so bad that she had to rely on her husband to carry out her share of the household chores, including looking after their two young children. She felt her life had become very limited due to her injury, which she would not have suffered had her employers provided the appropriate piece of equipment needed to move the display slabs.
Glynns agreed with Jean that her employer had failed to ensure a safe working system, and we helped her make a work accident claim. We negotiated a settlement with the other side, taking into account the long-term pain and suffering Jean had endured, as well as the finances she had lost (from medical expenses, and from taking time off work). The claim was quickly settled, and Jean was awarded £40,000 compensation.
Bookmark This Article?
Would You Like Assistance from Specialist Accident At Work Claim Solicitors?
Having suffered injury you now want to be handled professionally, competently and efficiently by solicitors who communicate in straightforward and friendly terms and who specialise in the field of injury law.
If you would like to benefit from a service of excellence with total commitment to client care from a friendly team, Glynns are ready and waiting to help you.
Please call us on 0800 234 3300 (or from a mobile 01275 334030) or complete our Online Enquiry Form.

---
Testimonials
"I would like to take this opportunity to thank you very much for your continued professionalism and the consistantly friendly, approachable manner in which you have handled this claim. This has made all the difference in a situation that has at times been very sensitive and stressful for me.
Once again, many thanks."
Miss B, Norfolk
"Thank you for everything that Glynns did for us to achieve a successful outcome."

Anon

---