Work Accident Claims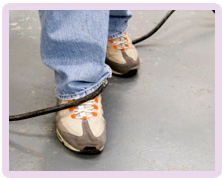 Factory Machinery Traps Knee
Joanne was working in a factory that assembled electrical circuit breakers when her knee got trapped in the machinery, causing her to suffer damage to her leg and hip.
For 13 years, Joanne had worked in a factory assembling electrical circuit breakers. The job involved sitting at a station where an automated machine would bring a metal pallet, to which an employee would have to attach certain parts. A constantly moving belt would then transfer the pallet along to the next station.
Staff would rotate around different stations, and one evening shift Joanne was working at the one known as 'springs'. She was sat down with her knees crossed, attaching springs to a partially assembled pallet – a metal unit of about one foot square.
This station, however, had two covers missing from the track. In fact, they had been moved to another section of the machine elsewhere in the factory. Due to the absent covers there was a hole in the track, through which Joanne's knee was poking.
Nevertheless, she did not realise this, and as the pallet in front of her moved along the belt it trapped her knee against the side of the track. Because it was automated, the belt continued to move, pushing the pallet further into her knee.
The pain was unbearable, and Joanne was screaming in agony. She could not reach the emergency button above her as her knee was stuck, but she did manage to switch the belt off. One of Joanne's colleagues then came to her assistance, moving the pallet and releasing her knee. As he did so, Joanne fell to the floor, twisting her right hip.
She was quickly taken to see the factory's first aider, who strapped her knee up and advised Joanne should be driven home. By this point her knee was swollen and throbbing, while her right hip clicked when she walked.
Joanne tried to return to work two days later, but she remained in a lot of pain and did not feel well enough to carry on. Consequently, she attended her GP, who referred her to the hospital's physiotherapy department. Joanne was then told she had pulled a large muscle in her hip, an injury that would require regular sessions of physiotherapy.
As a result of her workplace accident, Joanne was repeatedly signed off work by her GP, and she continues to have a dull ache in her right hip which still clicks when she walks. She felt her employer's were responsible for her injury, as had the covers not been missing, her knee would not have got trapped.
After contacting Glynns, we advised Joanne that her employer's failed to provide a safe working environment. We helped her make a personal injury claim, and she was awarded £5,500 compensation.
Bookmark This Article?
Would You Like Assistance from Specialist Accident At Work Claim Solicitors?
Having suffered injury you now want to be handled professionally, competently and efficiently by solicitors who communicate in straightforward and friendly terms and who specialise in the field of injury law.
If you would like to benefit from a service of excellence with total commitment to client care from a friendly team, Glynns are ready and waiting to help you.
Please call us on 0800 234 3300 (or from a mobile 01275 334030) or complete our Online Enquiry Form.

---
Testimonials
"I would like to take this opportunity to thank you very much for your continued professionalism and the consistantly friendly, approachable manner in which you have handled this claim. This has made all the difference in a situation that has at times been very sensitive and stressful for me.
Once again, many thanks."
Miss B, Norfolk
"Thank you for everything that Glynns did for us to achieve a successful outcome."

Anon

---