Work Accident Claims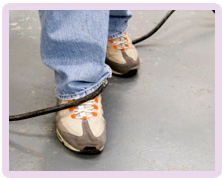 Incompetent Employee Causes Burns Injury to Work Colleague
While he was working in a foundry, Rob was busy making a machine mould when another employee began to pour molten iron from a raised container. Ordinarily, this process would be preceded with a warning, alerting others to move out the way. However, the colleague in question failed to do so and the molten iron splashed against Rob's back, burning his skin.
For three years Rob has worked as a machine moulder, a job which involved making moulds out of compressed sand. These moulds would then be mounted on a track and moved along the factory, where other employees would pour molten iron into them.
The molten iron itself was kept within a container known as a 'bogey' which was connected to a tramline that ran along the ceiling. This allowed the operator to position it above a previously prepared mould. Once in place, the handle would be turned, and the contents tipped out.
One morning Rob was making the machine moulds, wearing ear plugs as he was required to do. He did not, however, have any other kind of protective clothing on. Suddenly, he heard a 'pop' noise, a sound he knew to mean molten iron was being poured into the moulds behind him.
Normally, the person controlling the bogey would give appropriate warning, alerting others in the factory to retreat to a safe distance. However, on this occasion the operator did not do so, despite the fact Rob was evidently at risk.
When he heard the pop, Rob instinctively ducked down. Nevertheless, he immediately felt some liquid sting his back. He remained crouched down, and seconds later a greater quantity of molten iron splashed against his back and his head.
After a few minutes, Rob began to experience a searing sensation on his skin, comparable to being burnt with a hot kettle. He cooled himself off in the shower room before attending the health and safety manager, who sprayed his burns with a chemical aerosol.
Even so, the pain did not subside and Rob was forced to go to hospital to have his injuries cleaned and dressed. He remained in a significant amount of discomfort for several weeks, and had to sleep on his front to avoid putting pressure on his burns.
While the pain has now eased, Rob has been left with unsightly scars across his back, something he remains embarrassed about.
Feeling upset about the injuries he sustained, Rob contacted Glynns to see what action he could take. We suggested that his employer failed to ensure a safe system of work, neglected to provide protective clothing, and had employed an incompetent person. All of these factors put Rob at risk, eventually causing him to suffer an accident.
We helped Rob settle his claim, and he was awarded £1,000 compensation.
Bookmark This Article?
Would You Like Assistance from Specialist Accident At Work Claim Solicitors?
Having suffered injury you now want to be handled professionally, competently and efficiently by solicitors who communicate in straightforward and friendly terms and who specialise in the field of injury law.
If you would like to benefit from a service of excellence with total commitment to client care from a friendly team, Glynns are ready and waiting to help you.
Please call us on 0800 234 3300 (or from a mobile 01275 334030) or complete our Online Enquiry Form.

---
Testimonials
"I would like to take this opportunity to thank you very much for your continued professionalism and the consistantly friendly, approachable manner in which you have handled this claim. This has made all the difference in a situation that has at times been very sensitive and stressful for me.
Once again, many thanks."
Miss B, Norfolk
"Thank you for everything that Glynns did for us to achieve a successful outcome."

Anon

---