Work Accident Claims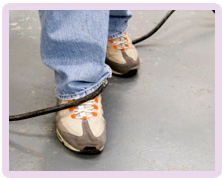 Cardboard Trips Up Work Accident Victim
We acted for a 47 year old gentleman by the name of Robert, who sustained a rather nasty injury at work when he slipped on a piece of cardboard which had been placed over some spilt oil that had leaked from a nearby machine. Robert did not know of the leaked oil and as a result of the slip he fell to the floor, striking his head on the machine as he did so.
As a result of his fall, Robert suffered a significant cut to his forehead, which required twelve stitches. He was left with some permanent scarring.
Within two months of the accident taking place a Letter of Claim had been sent to Robert's opponent and within that Letter of Claim we alleged, amongst other things, that they had failed to keep the walkway in question free from substances that were likely to cause Robert or, indeed, any other pedestrian to slip.
Not surprisingly, we received a full admission of liability from Robert's opponent within six weeks of the Letter of Claim being sent. Thereafter, we obtained a medical report from our medical expert, who confirmed that the scarring in question was "easily visible" and that there would be no further improvement.
Robert was and remains very active in the local community, especially in refereeing amateur football league matches. As a result of his accident, he was unable to engage in his refereeing for several months and we were able to recover from the employers insurer the money lost by Robert as a result of not being able to act as a referee over this period.
Within twelve months of the Letter of Claim being sent, Robert's claim was settled for the total sum of £7,000.00 and at no cost to Robert himself.
Bookmark This Article?
Would You Like Assistance from Specialist Accident At Work Claim Solicitors?
Having suffered injury you now want to be handled professionally, competently and efficiently by solicitors who communicate in straightforward and friendly terms and who specialise in the field of injury law.
If you would like to benefit from a service of excellence with total commitment to client care from a friendly team, Glynns are ready and waiting to help you.
Please call us on 0800 234 3300 (or from a mobile 01275 334030) or complete our Online Enquiry Form.

---
Testimonials
"I would like to take this opportunity to thank you very much for your continued professionalism and the consistantly friendly, approachable manner in which you have handled this claim. This has made all the difference in a situation that has at times been very sensitive and stressful for me.
Once again, many thanks."
Miss B, Norfolk
"Thank you for everything that Glynns did for us to achieve a successful outcome."

Anon

---