Work Accident Claims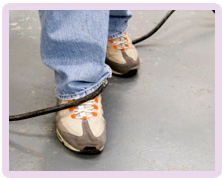 Work Back Injury Claim
Julia was a 53 year old lady (at the time of her accident) who suffered a fall at work, sustaining a nasty injury to her lower back.
She was employed as a sales and marketing assistant by a hotel chain. On the day of her accident she had gone out from her office into the foyer of the hotel where she worked to put some brochures on display. As Julia entered the foyer area, which was carpeted, she heard the voice of a work colleague from behind her and she turned to speak to her colleague. The conversation only lasted for a few seconds, but as Julia attempted to move from her standing position, her right heel got stuck in a ripped seam in the foyer carpet and as a result Julia tripped and fell heavily to the floor, landing on her bottom.
Julia immediately felt severe pain throughout her whole body, but especially her back and she also banged her head on the floor as she fell.
Following the accident, Julia was taken by ambulance to hospital where she was found to have fractured one of the vertebrae in her lower back.
Prior to asking Glynns to help her with her personal injury claim arising out of the accident, Julia had first gone to another firm of solicitors, but, following their investigations (which included obtaining an opinion from a barrister), they informed Julia that in their view her claim did not have reasonable prospects of being successful and they would therefore not be able to take the matter any further.
Julia then asked us to help her and having obtained her file of papers from her previous solicitors, it immediately became clear that the success or failure of her claim would very much depend upon the surveillance footage taken by the CCTV camera that was operating in the foyer of the hotel at the time of her accident. Julia's previous solicitors had understood that the CCTV footage was only able to be viewed on the hotel premises and that it could not be copied. We requested copies of the footage and when that was not forthcoming we applied to the court for an order that they disclose the footage to us. The original CCTV footage was copied and this ultimately led to an acceptance of responsibility for the accident and injuries sustained by Julia.
We obtained supportive medical evidence from an orthopaedic consultant who confirmed the fracture of our client's vertebrae as referred to above and who stated that Julia would be left with ongoing symptoms of pain as a result of her back injury, although it was not expected to lead to Julia having to take any more time off work. Our expert expected Julia to be able to work to normal retirement age. Julia took six months off work following the accident and then returned to work on light duties for several months before resuming normal duties.
County Court proceedings were commenced shortly before the third anniversary of Julia's accident to protect her claim (court proceedings must be issued within three years of the date of an accident) and settlement of Julia's claim was achieved approximately nine months later in the sum of £50,000.00.
Bookmark This Article?
Would You Like Assistance from Specialist Accident At Work Claim Solicitors?
Having suffered injury you now want to be handled professionally, competently and efficiently by solicitors who communicate in straightforward and friendly terms and who specialise in the field of injury law.
If you would like to benefit from a service of excellence with total commitment to client care from a friendly team, Glynns are ready and waiting to help you.
Please call us on 0800 234 3300 (or from a mobile 01275 334030) or complete our Online Enquiry Form.

---
Testimonials
"I would like to take this opportunity to thank you very much for your continued professionalism and the consistantly friendly, approachable manner in which you have handled this claim. This has made all the difference in a situation that has at times been very sensitive and stressful for me.
Once again, many thanks."
Miss B, Norfolk
"Thank you for everything that Glynns did for us to achieve a successful outcome."

Anon

---