Work Accident Claims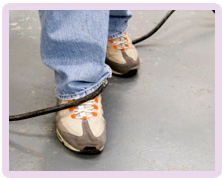 Toe Injury At Work
We represented a young lady by the name of Christine, who suffered an injury to the big toe of her right foot when a low wall at work collapsed and fell on her.
We first spoke with Christine a few days after her accident happened and we swiftly agreed to act for Christine so that we could obtain all of the necessary evidence to support her claim.
We made contact with Christine's employer and little more than one month later the employer's insurers confirmed that they would be prepared to settle our client's compensation claim due the evidence that we had prepared showing that they were responsible for the accident.
Before we could correctly assess the value of her claim we needed to confirm the full extent of her injuries so we asked an orthopaedic consultant to carry out an examination and provide a detailed report.
The surgeon confirmed that whilst Christine had not suffered a fracture of her toe, she did sustain some nasty bruising to a tendon and developed post-traumatic tenosynovitis of the tendon.
He was of the opinion that whilst at the time of her examination Christine still had ongoing symptoms in her toe, these symptoms would gradually resolve over time, especially if assisted by some massage treatment.
Christine's compensation claim settled for just under £4,000.00, approximately two years after the accident.
Bookmark This Article?
Would You Like Assistance from Specialist Accident At Work Claim Solicitors?
Having suffered injury you now want to be handled professionally, competently and efficiently by solicitors who communicate in straightforward and friendly terms and who specialise in the field of injury law.
If you would like to benefit from a service of excellence with total commitment to client care from a friendly team, Glynns are ready and waiting to help you.
Please call us on 0800 234 3300 (or from a mobile 01275 334030) or complete our Online Enquiry Form.

---
Testimonials
"I would like to take this opportunity to thank you very much for your continued professionalism and the consistantly friendly, approachable manner in which you have handled this claim. This has made all the difference in a situation that has at times been very sensitive and stressful for me.
Once again, many thanks."
Miss B, Norfolk
"Thank you for everything that Glynns did for us to achieve a successful outcome."

Anon

---