Work Accident Claims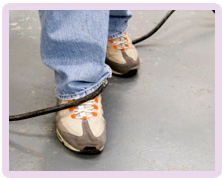 Shoulder Work Injury Claim
We acted for a gentleman by the name of Robert with regard to an accident that he had had at work some two years or so previously. Robert had suffered an injury to his shoulder while trying to release a damaged wooden pallet from a conveyor belt at work. The only piece of equipment Robert was provided with by his employer was a metal bar to try and release the pallet and as Robert attempted to use this bar he felt an excruciating pain in his right shoulder.
Whilst Robert was able to conclude his shift and, indeed, carry on working over the subsequent weeks and months, he remained in pain on an intermittent basis. A proper diagnosis of Robert's injury was not made until approximately eighteen months after the accident had taken place when he was told that a nerve had been trapped in the shoulder and that the tendon in his right shoulder had become detached from his collar bone.
Robert underwent keyhole surgery just over two years after the accident had taken place and thereafter there followed a lengthy rehabilitation period of many months.
Robert had experienced problems with his shoulder in the past and before the accident which was the subject of his claim. Our medical orthopaedic expert concluded that in all likelihood Robert would have suffered with similar symptoms within five years and would have required similar surgery within two years thereafter.
Robert's employers failed to accept responsibility for the accident, so we made an application to the Court to speed along their decision. They admitted liability for his accident some six months after we first made contact with them.
Due to the fact that we did not receive instructions in this matter until over two years post-accident and that it subsequently took the Defendant over six months to admit liability, we were forced to issue County Court proceedings to protect Robert's claim whilst we obtained the evidence needed.
Robert's claim was settled for the sum of £11,500.00.
Bookmark This Article?
Would You Like Assistance from Specialist Accident At Work Claim Solicitors?
Having suffered injury you now want to be handled professionally, competently and efficiently by solicitors who communicate in straightforward and friendly terms and who specialise in the field of injury law.
If you would like to benefit from a service of excellence with total commitment to client care from a friendly team, Glynns are ready and waiting to help you.
Please call us on 0800 234 3300 (or from a mobile 01275 334030) or complete our Online Enquiry Form.

---
Testimonials
"I would like to take this opportunity to thank you very much for your continued professionalism and the consistantly friendly, approachable manner in which you have handled this claim. This has made all the difference in a situation that has at times been very sensitive and stressful for me.
Once again, many thanks."
Miss B, Norfolk
"Thank you for everything that Glynns did for us to achieve a successful outcome."

Anon

---