Work Accident Claims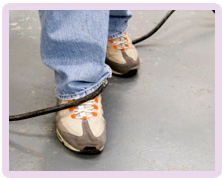 Back Injury At Work
Janet sustained a soft tissue injury to her back whilst at work. She was in the process of having to manually push a large and extremely heavy pressing tool into place due to the fact that the hydraulics on the tool were not working properly. During the course of doing this Janet sustained a lower back injury.
We wrote to her employer approximately six weeks after the accident had taken place. Fault for the accident (ie liability) was not initially admitted by her employer's insurance company. An application to the local County Court was required so that all of the documents we had requested from the employer to prove responsibility for the accident would at last be provided. The application was successful, subsequently followed by an admission of primary liability five months after we had first written to her employer. They confirmed that there would be no allegations of contributory negligence (ie fault on Janet's part) raised against Janet one month later.
We obtained supportive medical evidence from an orthopaedic consultant and also from a clinical psychologist. The orthopaedic consultant was of the view that Janet had recovered from her physical injuries within approximately 3 – 4 months of the accident and at the most 6 months. He recommended that a report be obtained from a clinical psychologist in an attempt to explain Janet's ongoing symptoms. The clinical psychologist whom we instructed confirmed that Janet was suffering from symptoms of post-traumatic stress disorder (PTSD) and mood disturbance, but without actually suffering from fully blown PTSD itself. The psychologist expressed his opinion that Janet's psychological symptoms would recede 3 – 6 months from the date of his examination.
Janet's recoverable out of pocket expenses were minimal and we were ultimately able to secure a compensation sum of £4,000.00 for her.
Bookmark This Article?
Would You Like Assistance from Specialist Accident At Work Claim Solicitors?
Having suffered injury you now want to be handled professionally, competently and efficiently by solicitors who communicate in straightforward and friendly terms and who specialise in the field of injury law.
If you would like to benefit from a service of excellence with total commitment to client care from a friendly team, Glynns are ready and waiting to help you.
Please call us on 0800 234 3300 (or from a mobile 01275 334030) or complete our Online Enquiry Form.

---
Testimonials
"I would like to take this opportunity to thank you very much for your continued professionalism and the consistantly friendly, approachable manner in which you have handled this claim. This has made all the difference in a situation that has at times been very sensitive and stressful for me.
Once again, many thanks."
Miss B, Norfolk
"Thank you for everything that Glynns did for us to achieve a successful outcome."

Anon

---