Road Traffic Accident Solicitors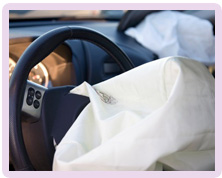 Whiplash Sustained During Collision - £9,300
Helen was slowing down in advance of a traffic light when a vehicle drove in the rear of her car, causing her to suffer a whiplash injury.
Helen was driving into Bristol along the A4, a busy road with a heavy flow of traffic. She was making her way through the Brislington area when a traffic signal ahead turned amber. Aware that the light was going to turn red, Helen slowed down, preparing to come to a standstill in front of the traffic lights.
As she was doing so, however, the vehicle behind her suddenly hit the back of her car. The driver had failed to slow down or leave sufficient space in between the two vehicles. This meant that when Helen had started to break, he had continued forward, driving straight into the back of her car.
The force of this impact caused Helen's head to be thrown violently forwards and backwards. Her neck hyperextended, meaning the muscles, tendons and ligaments were stretched beyond their normal limits. Having suffered a whiplash injury just six months earlier, Helen was immediately aware of the damage to her neck.
Despite her discomfort, she managed to get out of the car and speak with the other driver. He admitted the accident was his fault, and gave Helen his name, contact details, registration number and insurance company.
Feeling upset by the incident, Helen decided to go home and get some rest. Gradually her condition worsened, while the symptoms she suffered because of the previous accident were exacerbated. Her neck was incredibly painful and her range of movement was seriously reduced. She also developed a headache and felt nauseous.
As we were already helping her make a whiplash claim from her accident earlier in the year, Helen contacted Glynns to discuss her options regarding the second incident. We advised that she was legally entitled to make another personal injury claim.
We began the claims process on her behalf, contacting the other side stating our intentions to take legal action. We took a statement from Helen and arranged for her to be assessed by an Orthopaedic Surgeon. The medical expert confirmed Helen had sustained a whiplash injury, which had further deteriorated her symptoms from a previous episode.
The other side quickly admitted liability, and the claim was soon settled. We negotiated a sum of compensation and Helen received a £4,500 financial reward. Combined with her other claim, Helen was awarded a total of £9,300.
Bookmark This Article?
Would You Like Assistance from Specialist Road Traffic Accident Claims Solicitors?
For a free road accident claim assessment please call us on 0800 234 3300 or complete our online enquiry form.
Make a Free Enquiry About A 'Road Accident Claim'
---
Testimonials
"I would like to take this opportunity to thank you very much for your continued professionalism and the consistantly friendly, approachable manner in which you have handled this claim. This has made all the difference in a situation that has at times been very sensitive and stressful for me.
Once again, many thanks."
Miss B, Norfolk
"Thank you for everything that Glynns did for us to achieve a successful outcome."

Anon

---