Road Traffic Accident Solicitors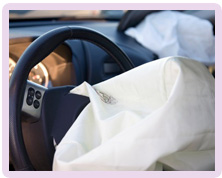 Over £11,000 Road Traffic Accident Compensation
We were instructed by a young lady called Jemima who was involved in a road traffic accident when a motorist drove her vehicle into the rear of Jemima's car. As a result of the accident Jemima suffered quite severe symptoms of whiplash to her neck and shoulders.
Jemima had been involved in a prior road traffic accident some three years or so before this accident, but she had been symptom free for some time before this more recent accident.
Not surprisingly, liability was admitted by the other driver's motor insurer within a matter of only a few weeks after we notified them of the claim. However, we were not in a position to be able to advise Jemima to settle her claim at that time due to the fact that she remained symptomatic and in need of further chiropractic treatment. This did not, however, prevent the third party's insurer from making offers of settlement ranging between £1,500.00 and £3,500.00.
Two separate medical reports were required from Jemima's orthopaedic consultant for the purposes of the claim, but ultimately the consultant concluded that she would be left with ongoing relatively mild neck symptoms on an intermittent basis for the foreseeable future. Our expert attributed these symptoms to the accident that was the subject of the claim rather than to the previous accident.
Jemima's claim for compensation settled some two and a half years after her accident for the sum of £11,625.00.
Would You Like Assistance from Specialist Road Traffic Accident Claims Solicitors?
For a free road accident claim assessment please call us on 0800 234 3300 or complete our online enquiry form.
Make a Free Enquiry About A 'Road Accident Claim'
---
Testimonials
"I would like to take this opportunity to thank you very much for your continued professionalism and the consistantly friendly, approachable manner in which you have handled this claim. This has made all the difference in a situation that has at times been very sensitive and stressful for me.
Once again, many thanks."
Miss B, Norfolk
"Thank you for everything that Glynns did for us to achieve a successful outcome."

Anon

---