Road Traffic Accident Solicitors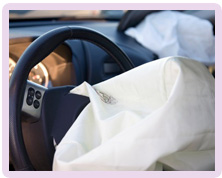 Road Accident Collision Causes Whiplash - £4,800
While waiting at a junction, Susan's car was suddenly hit from behind, leaving her with chronic whiplash.
Susan was driving home from work one afternoon, taking her usual route through the country lanes. Eventually she reached a crossroads, where she needed to turn left onto a busy A road. As it was rush hour there was a heavy flow of traffic, and so Susan sat stationary waiting for a gap in the oncoming traffic.
Suddenly and without warning, Susan's car was hit from behind by another vehicle. She was violently thrown forwards, causing her to chip her tooth and bruise her knee. Feeling shaken, Susan got out of her vehicle and exchanged details with the other driver, getting his name, contact details, registration number and insurance company.
When she had all the necessary information, Susan assessed her car and decided she was able to continue with her journey. By the time she got home, however, her neck was extremely painful. It was also very stiff, severely reducing her mobility. By the evening she has developed a headache, felt nauseous and had additional pain in her elbow.
The next day Susan didn't feel any better, so she made an appointment with her GP. He confirmed that she was suffering from whiplash, an injury commonly sustained in low-speed road traffic accidents. Susan was given painkillers and told to do gentle exercises to aid the mobility in her neck.
Later that day, Susan decided to contact Glynns to discuss her options. She had already processed a claim with her own insurance company, but she wanted to speak with a legal expert about her whiplash injuries.
We advised her that she was entitled to claim compensation for the pain and suffering she had experienced. The other driver was clearly at fault, as he had failed to keep a proper lookout on the road ahead, failed to have any sufficient regard for other road users, and was driving too fast under the circumstances. Susan decided to proceed in making a claim, so we managed the case on her behalf.
In the meantime, the discomfort in Susan's neck and elbow was not improving. She continued to take medication for the pain, was receiving both osteopathy and physiotherapy treatment, and was referred to a specialist at a hand and elbow clinic.
We took into consideration the prolonged nature of Susan's injuries and negotiated a settlement with the other side. The claim was settled outside of court, and Susan received £4,800 compensation.
Bookmark This Article?
Would You Like Assistance from Specialist Road Traffic Accident Claims Solicitors?
For a free road accident claim assessment please call us on 0800 234 3300 or complete our online enquiry form.
Make a Free Enquiry About A 'Road Accident Claim'
---
Testimonials
"I would like to take this opportunity to thank you very much for your continued professionalism and the consistantly friendly, approachable manner in which you have handled this claim. This has made all the difference in a situation that has at times been very sensitive and stressful for me.
Once again, many thanks."
Miss B, Norfolk
"Thank you for everything that Glynns did for us to achieve a successful outcome."

Anon

---