Road Traffic Accident Solicitors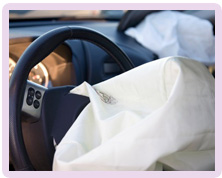 Passenger Suffers Broken Neck In Road Traffic Accident - £45,000
Fred was travelling as a passenger in his cousin's car when another vehicle swerved round the corner and hit them head-on. The impact caused Fred's neck to break – an injury that very nearly killed him.
Fred and his cousin, Johnny, were making their home one Saturday afternoon. The two 20 year olds had been to a football match in the next village and were making their way back along the country lanes. Johnny, who was driving, slowed down in advance of a very narrow bend in the road. But as he did so, a pick-up truck coming the other way swerved round the corner at speed, colliding head-on with their car.
Although he was wearing a seatbelt, the impact forced Fred's body forwards and he banged his head on the dashboard. Feeling dazed and confused, he managed to get out of the car, which is when he realised that a lot of blood was flowing from a wound on his head. At the same time the driver of the pick-up truck left her vehicle and began an argument with Johnny, blaming him for the accident. She even made the completely unfounded (and untrue) claim that he was on drugs.
Realising they needed assistance, Fred decided to leave the scene of the accident and walk the short distance back to his parent's house. Thankfully, his father was driving the same way and spotted Fred 200 yards away, walking towards him with a cut on his head. He drove his son home before returning to the accident where the police were attending the scene. Again the driver of the pick-up truck began accusing Johnny; however, Fred's father pointed out that judging by the skid marks it was she who was not only driving too fast, but also driving in the middle of the road.
Once the statements had been taken and Johnny's car (which was a write-off) towed away, Fred and Johnny were taken to hospital. Thankfully Johnny had escaped with only a few minor cuts and bruises. Fred, on the other hand, needed 12 stitches to his head. He also complained of suffering extreme neck pain, but the hospital said it was just whiplash and did not bother doing an x-ray.
The following day Fred went to work at the local garage where he was employed as a mechanic. However, he remained in a lot of pain, and on his GPs advice returned to hospital two days later. But once again Fred was told there was nothing wrong and sent home. Even so, his GP remained extremely concerned and rang the hospital demanding an x-ray. This was performed the day later, but again Fred was told there were no underlying problems and was told to continue as per normal.
Two days later, Fred's GP was studying the x-ray image and realised the hospital had made a serious error. For the past week Fred had in fact been walking around with a broken neck, and any form of trauma could kill him in an instant. Fred was immediately taken home from work and was told to lie still until the ambulance arrived. He soon underwent surgery, during which metal plates were inserted into his neck to fuse his vertebrae together.
Although Fred is now out of harm's way, he has lost around 40% of the movement of his neck and faces a prolonged period of rehabilitation. He must remain off work for the foreseeable future, and is unable to take part in his main hobby of stock car racing for another two years. All this has taken its toll on Fred, who used to be an extremely fit and active young man.
Feeling traumatised by the grave nature of his injuries, Fred contacted Glynns to ask if he was able to make a claim. We advised that as a passenger he was the innocent victim of another person's negligence. He was therefore entitled to claim compensation for the damages he had sustained. We helped Fred pursue a personal injury claim, and he was awarded £45,000.
Bookmark This Article?
Would You Like Assistance from Specialist Road Traffic Accident Claims Solicitors?
For a free road accident claim assessment please call us on 0800 234 3300 or complete our online enquiry form.
Make a Free Enquiry About A 'Road Accident Claim'
---
Testimonials
"I would like to take this opportunity to thank you very much for your continued professionalism and the consistantly friendly, approachable manner in which you have handled this claim. This has made all the difference in a situation that has at times been very sensitive and stressful for me.
Once again, many thanks."
Miss B, Norfolk
"Thank you for everything that Glynns did for us to achieve a successful outcome."

Anon

---