Road Traffic Accident Solicitors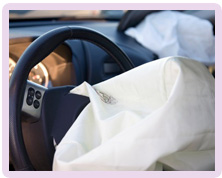 Collision Leads To Whiplash Injury - £9,425
Laura was stationary at a roundabout waiting for a gap in the traffic. All of a sudden her car was hit from behind, leaving her to suffer long-term complications.
On 16th March 2008, Laura was making her way to work along the A4174 in Bristol. She was approaching a roundabout, and so gradually slowed down, eventually coming to a complete standstill.
She was sat stationary in her vehicle, waiting for a gap in the traffic so she could join the roundabout. As she did so, however, her car was suddenly hit from the rear. The vehicle behind her had failed to slow down in time, therefore driving straight into the back of Laura's car.
The force of this sudden impact caused Laura's head to jolt backwards and forwards. This rapid whipping motion meant her neck hyperextended, meaning it stretched beyond its normal range of movement. This in turn damaged the muscles, tendons and ligaments in her neck.
After exchanging the necessary details with the other driver, Laura decided to continue on her journey to work, where she was employed in an administration role. After a few hours, however, she developed severe neck pain. Within one week, this pain had spread to her lower back, right buttock, and right thigh and calf muscle.
Soon after the accident, Laura made a claim directly with the third party insurers, who offered to settle the claim for a sum of £3,500. Nevertheless, two months down the line Laura was still in discomfort, with pain continuing in her neck, back and right buttock. Consequently, she was receiving regular sessions of physiotherapy and chiropractic treatment.
Considering the ongoing nature of her injuries, Laura felt uncomfortable in agreeing to a settlement. She contacted Glynns for advice, and we explained her options to her. We agreed with Laura that she should not settle her claim until her treatment had come to an end. We also suggested that the initial offer of £3,500 was too low.
As a result of our discussion, Laura asked us to manage her claim on her behalf. We arranged a Consultant Orthopaedic Surgeon to assess her injuries, enabling us to obtain a proper prognosis. Our medical expert confirmed Laura had suffered a severe whiplash injury, adding that although her condition would not deteriorate any further, she would continue to have pain in her buttock indefinitely.
We took into account the pain and suffering Laura had suffered, and negotiated a settlement with the other side. Glynns soon settled Laura's claim, and she received £9,425 compensation.
Bookmark This Article?
Would You Like Assistance from Specialist Road Traffic Accident Claims Solicitors?
For a free road accident claim assessment please call us on 0800 234 3300 or complete our online enquiry form.
Make a Free Enquiry About A 'Road Accident Claim'
---
Testimonials
"I would like to take this opportunity to thank you very much for your continued professionalism and the consistantly friendly, approachable manner in which you have handled this claim. This has made all the difference in a situation that has at times been very sensitive and stressful for me.
Once again, many thanks."
Miss B, Norfolk
"Thank you for everything that Glynns did for us to achieve a successful outcome."

Anon

---