Road Traffic Accident Solicitors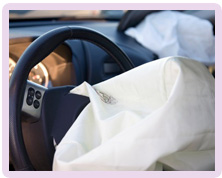 Car Accident Causes Whiplash Injuries - £4,800
While slowing down in advance of a queue of traffic, Ellie's car was suddenly hit by the car behind, causing her and her passenger to sustain whiplash.
On the evening of 1st August 2008, Ellie had arranged to pick up her boyfriend from his place of work and drive them both back home. She was making the return journey, and had reached the main road in her local village. As there was a roundabout at the end of the road, a queue of traffic had built up, so Ellie slowed down accordingly.
She had almost come to a complete stop when her car was suddenly and forcefully hit from the rear. The vehicle behind had failed to slow down in time, and had also neglected to leave an appropriate amount of space between his car and Ellie's Vauxhall Vectra.
The impact of the collision caused Ellie and her boyfriend to jolt forwards and backwards, while their heads were violently thrown away from their body. Consequently theirs necks were stretched beyond the normal range of movement, damaging the muscles, tendons and ligaments. Both Ellie and her boyfriend felt shaken up by the incident, but they managed to exchange details with the other driver before continuing with their journey.
However, the next day Ellie was in extreme discomfort. Her neck was stiff and very painful, while she had also developed pain and numbness in her right arm. She attended her local hospital and was diagnosed with whiplash. As it was a Saturday, the hospital told Ellie she should go home and rest for the weekend, as there was little else they could do.
Nevertheless, by the time Monday came around there was no improvement in her condition. Ellie was forced to take the week off work, during which time she attended her GP. He reiterated the hospital's diagnosis of whiplash, and referred Ellie to a private chiropractor.
Upset about the prolonged nature of her injuries and the expense of her medical treatment, Ellie decided to contact Glynns to see if there was any action she could take. We advised she had been the victim of a road traffic accident that was not her fault. The other side was to blame, as he had failed to drive without due care and attention. Ellie was, therefore, entitled to claim compensation.
She decided to go ahead with the claim, and we managed the case on her behalf. We obtained a statement from Ellie and other witnesses, arranged a medical expert to assess her injuries, and negotiated a settlement with the other side's insurance company.
The other side admitted liability, and the claim was quickly settled outside of court. Ellie was awarded £4,800 compensation.
Bookmark This Article?
Would You Like Assistance from Specialist Road Traffic Accident Claims Solicitors?
For a free road accident claim assessment please call us on 0800 234 3300 or complete our online enquiry form.
Make a Free Enquiry About A 'Road Accident Claim'
---
Testimonials
"I would like to take this opportunity to thank you very much for your continued professionalism and the consistantly friendly, approachable manner in which you have handled this claim. This has made all the difference in a situation that has at times been very sensitive and stressful for me.
Once again, many thanks."
Miss B, Norfolk
"Thank you for everything that Glynns did for us to achieve a successful outcome."

Anon

---