Bath and Bristol Solicitors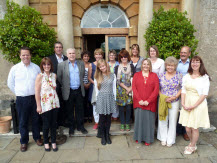 Bath and Bristol Solicitors Glynns celebrate 25 years in the Chew Valley
Personal Injury and medical negligence solicitors Glynns have plenty to celebrate.
They have just completed 25 years of service to clients throughout the Chew Valley and also nationwide from their offices close to Bristol and Bath.
The firm has also recently extended its offices in Chelwood to double the previous size to accommodate existing staff and an expanding client base.
Julie Glynn (featured 4th from left in photo) who started the practice in 1983 says "Many of our clients have suffered serious injuries. It is important that they can park easily and feel comfortable when they are here. We now have a large meeting room and we are able to offer full facilities to disabled clients."
Glynns is committed to providing local employment and supporting businesses in the Chew Valley. Jane Glynn, the Practice Manager (5th from left in photo) says "we will not buy products or services out of the area if we can source them locally. We give full support to Pensford Post Office, local garages and printers and other local shops. We even refuse to get a franking machine because this would affect our local post office! We also encourage our staff to buy their groceries there."
Congratulations to Glynns on their 25th anniversary and for their commitment to client care for personal injury and medical negligence claims.
---
Testimonials
"Before I contacted you I was afraid that I could be at risk, ie be regarded distainfully, or have a negative impact on my working future. I was put at ease immediately and felt I trusted my solicitor. I particularly liked the personal contact and approachable manner. I believe that I have received the best deal available to me and I would certainly recommend you to friends and family. Thank you." Ms B.