Horse Accident Articles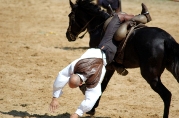 5 Steps You Must Take After An Accident Involving A Horse
If you have been injured by a horse, either in a horse riding accident, working with horses or as a pedestrian, what action should you take immediately after the accident?
This article explores the five steps you must take to protect your opportunity to make a claim for compensation if you subsequently decide to do so. It is wise to take this action as it leaves you with the option to make a claim at a later date if you find that your injuries are more severe than you first anticipated.
1. Call The Police
If the accident has caused a severe injury and has taken place on a road or other public place (car park or a footpath) you should contact the police to explain what has happened. You should obtain the registration number of any vehicles involved. The police may well attend and obtain evidence that could be vital later on if you make a claim for compensation.
2. Photographs
Whether the police attend or not you should obtain your own photographs of the scene of the accident as soon as possible after the event. Try and include an item that dates the photograph (such as a newspaper) which will also provide scale for the photograph.
You should take pictures of all of the circumstances confirming the accident including:
Your injury
Any damage to your vehicle (if relevant)
Any injury to the horse (whether you were injured by the horse or it has been injured)
The scene of the accident
3. Witnesses
If anyone else witnessed the accident you must obtain their name, address and telephone number. Whilst you may feel embarassed at the time of the accident many horse accident claims are won or lost by the supporting witness evidence. If you are too injured to obtain details you should ask someone to do this for you. A witness really can make a huge difference to the success of your claim.
4. Details Of The Other Person
You should obtain the full contact details of the person that you believe is responsible for the accident. This might be a car driver or the rider or owner of the horse. Obtain their full details along with details of their insurance company (for their car or for any horse related insurance that they hold).
5. Accident Book
If the accident happens during the course of your employment you must ensure that the accident is entered into the work accident book. If you are not fit to do this you should ask a colleague to ensure that it is entered. All accidents leading to injury must be entered into the work accident book and evidentially this may support your claim for compensation if you do decide to pursue one. Once you return to work check that the accident book entry is correct and keep a copy of it.
Summary
Whilst there are many minor accidents involving horses, due to their size and temperament people can also experience serious injuries. If you are involved in a horse related accident following the advice above will provide you with the best prospects of making a successful claim for compensation.
Can We Help You With A Horse Accident Injury Claim?
Please call us free on 0800 234 3300 (or from a mobile 01275 334030) or complete our Online Enquiry Form for a free initial assessment and advice.
Make a Free Enquiry About A 'Horse Riding Accident'
---
Testimonials
"I would like to take this opportunity to thank you very much for your continued professionalism and the consistantly friendly, approachable manner in which you have handled this claim. This has made all the difference in a situation that has at times been very sensitive and stressful for me.
Once again, many thanks."
Miss B, Norfolk
"Thank you for everything that Glynns did for us to achieve a successful outcome."

Anon

---