Surgery Negligence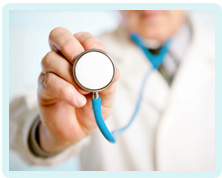 Sterilisation Leads to Bowel Injury
A couple of days after undergoing a sterilisation procedure, Dawn began to feel very unwell. She was rushed to hospital where it was discovered her bowel had in fact been punctured during the operation. A series of complications ensued, eventually turning Dawn's life upside down.
Having decided that their family was complete, Dawn and her husband came to the decision that a sterilisation was appropriate.
After seeking advice from her GP, Dawn was referred to the Gynaecology Department at the local hospital. During an initial consultation the procedure was explained, along with the different risks and benefits.
Dawn's medical history was also reviewed, and the doctor noted she had previously had a laparotomy to deal with an ectopic pregnancy. Such surgery increases the risk of complication arising during sterilisation. Nevertheless, there was no mention of this danger, and Dawn consented to surgery.
Dawn underwent a laparoscopic sterilisation procedure. When she came round from the anaesthetic she appeared to be well and was discharged later that day.
However, for the next two days Dawn's condition began to deteriorate. She developed a fever, was in a lot of pain and began to vomit a foul green liquid. After a home-visit from her GP, an ambulance was called and she was rushed to hospital. It was soon revealed that the laparoscopy instruments had nicked Dawn's small bowel during the sterilisation procedure. This perforation meant that the contents of her bowel were leaking into her abdominal cavity, in turn causing peritonitis.
Subsequently Dawn had to undergo emergency surgery before spending the next week in the High Dependency Unit. She gradually began to improve and was eventually allowed to go home. Even so, Dawn was very restricted in her movements for the next two months. She could not wash, dress, or even go to the toilet unaided, relying on her husband and daughters for everything. The District Nurse had to visit every day to change the dressing on her wound, which was now an unsightly 22cm scar.
Unfortunately, Dawn's condition continued to regress. She was readmitted to hospital with a pulmonary embolism and a twist in her intestine. This caused a major set-back in her recovery. Furthermore, she later experienced a large ventral hernia due to the weakness in her abdomen.
The perforated bowel, along with the series of related health problems, had a devastating effect on Dawn's life. She was housebound for a number of months, was unable to sleep, and could not socialise with friends or take part in her usual activities. Her life was effectively put on hold, and she could not return to her job for nine months.
Her ill health has caused Dawn significant physical and psychological injury. She felt badly let down by the hospital that carried out the procedure. Not only had the surgeon negligently caused a small bowel perforation, the medical team had also failed to inform her she was at increased risk due to her previous abdominal surgery.
Dawn decided to discuss her case with Glynns, and we suggested she had been the victim of medical negligence. We helped her make a claim and she was awarded over £50,000 compensation.
(Details which might identify our client have been changed.)
Would You Like Assistance from Specialist Surgey Negligence Claims Solicitors?
If you would like to benefit from a service of excellence with total commitment to client care from a small and friendly team, Glynns are ready and waiting to help you.
Early legal assistance is essential. Please call us free on 0800 234 3300 (or from a mobile 01275 334030) or complete our Online Enquiry Form.

---