Surgery Negligence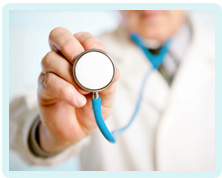 Failed Termination
When Holly discovered she was five weeks pregnant, she was surprised as she had been taking the oral contraceptive pill, and she and her husband had not planned to have another baby. They took the decision to terminate the pregnancy, and Holly was referred to the local hospital's Pregnancy Advisory Clinic.
With the referral letter, the GP attached vital information about the fact that Holly had a bicornuate uterus. However, when Holly attended her appointment at the Pregnancy Advisory Clinic no mention was made of her bicornuate uterus. An examination was performed, and a form regarding medical history was filled out. The section enquiring about other health problems or serious illnesses was left blank.
Holly returned to the hospital a week later where a suction termination was carried out under general anaesthetic. As with a successful termination, blood loss was stated to be 'moderate', and Holly was discharged later that day.
One month later, however, Holly returned to her GP concerned about a bulge on the left side of her lower abdomen. Furthermore, she had not had a period since the termination. Holly's GP made a diagnosis of a ventral hernia, and referred her to a surgical department.
Despite this diagnosis, Holly was certain that what she could actually feel were foetal movements in her womb. She took a pregnancy test, which was positive. She visited the Maternity Unit the next day, and an ultrasound scan confirmed she was over 19 weeks pregnant. Holly decided to continue with the pregnancy, and later gave birth to a healthy baby.
Had the hospital realised Holly had a bicornuate uterus, however, then the termination would not have failed. Due to her condition, Holly should have undergone either a medical termination or a surgical termination, rather than a suction termination. Even though there were several references to Holly's uterine abnormality in the hospital notes, this was not appreciated by staff during the pre-operative assessment. As a result, the correct type of termination was not performed, and Holly remained pregnant.
Holly contacted Glynns, and we instructed a specialist in obstetrics and gynaecology to prepare a report. This confirmed our belief that Holly's termination failed because medical staff were unaware of her bicornuate uterus, even though this information had clearly been presented to them. Glynns helped Holly file a medical negligence claim against the hospital, which was settled for over £20,000.
(Details which might identify our client have been changed.)
Would You Like Assistance from Specialist Surgey Negligence Claims Solicitors?
If you would like to benefit from a service of excellence with total commitment to client care from a small and friendly team, Glynns are ready and waiting to help you.
Early legal assistance is essential. Please call us free on 0800 234 3300 (or from a mobile 01275 334030) or complete our Online Enquiry Form.

---