Surgery Negligence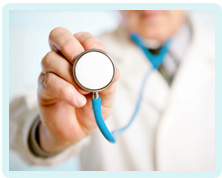 Eye Surgery And Negligent Treatment
When Claire started to experience blurred vision in her left eye with the sensation of seeing black patches, the otherwise healthy young woman went to an optician who referred her to hospital for further investigations.
At hospital it was noted Claire had a vitreous detachment and vitreous dust in her left eye, while a second doctor confirmed she also had a retinal tear. It was decided she should undergo cryotherapy treatment - a well-known procedure for the management of retinal tears - even though a retinal specialist had not been consulted.
Claire was told to return to hospital a week later. It was during this appointment that it became apparent she now had a giant retinal tear. She was given laser treatment, which she was told would help seal the tear. Unfortunately this procedure was unsuccessful, and the retina became fully detached.
Two weeks later Claire had vitrectomy surgery to repair the retina. This involved the administration of a gas bubble and fluid being drained into the eye. Due to the nature of this procedure, a patient is supposed to maintain a particular posture post-operatively to allow the gas bubble to dissolve. Claire woke up on her back, even though the doctor had instructed that she should be positioned to lie on her left side. It was not until some six hours later that she was informed of this by nurses.
Claire was discharged from hospital and informed that her symptoms would soon improve, but after six weeks she was still suffering from blurred sight and double vision. She attended the Outpatient Department, and it was discovered that Claire had now developed a cataract on her left eye. She underwent further surgery, not only to remove the cataract but also in an attempt to reduce the scarring around the retina.
Even so, Claire continued to experience the same symptoms. She was eventually told that her left eye had been permanently damaged, and nothing more could be done. As a result, Claire suffers from double vision and blurred sight in her left eye, causing her problems at work. She is totally dependent on the vision in her right eye, and must where an eye-patch when driving. Her condition dramatically deteriorates when she is tired, and she no longer feels confident enough to ride her motorbike.
Claire was advised that her problems arose due to the failure of staff to put her in the correct position after surgery. She contacted Glynns to discuss this possibility, and we instructed an eye specialist to consider the case and prepare a report. It was found that Claire had been subject to care that fell below an acceptable standard, but that in actual fact this was due to the type of treatment she received. Claire should not have had laser surgery for her giant retinal tear, as this increased the scarring and delayed the consideration of a vitrectomy procedure - a definite cure for retinal detachment. Had she been seen by a retinal specialist, it is likely these mistakes would not have been made.
Claire filed a claim for personal injuries and damages, which was settled for over £10,000.
(Details which might identify our client have been changed.)
Would You Like Assistance from Specialist Surgey Negligence Claims Solicitors?
If you would like to benefit from a service of excellence with total commitment to client care from a small and friendly team, Glynns are ready and waiting to help you.
Early legal assistance is essential. Please call us free on 0800 234 3300 (or from a mobile 01275 334030) or complete our Online Enquiry Form.

---