Surgery Negligence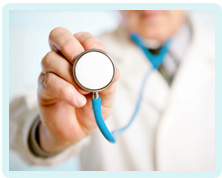 Drain Gets Stuck In Hysterectomy Patient's Abdomen
After undergoing a hysterectomy, Sharon had a drain inserted into her tummy. However, when this came to be taken out prior to her discharge, doctors found it could not be removed – it was caught on a suture and was subsequently lost inside Sharon's abdomen.
Having been identified with cysts on both ovaries, while her uterus was compact with fibroids, Sharon was advised that she required a total abdominal hysterectomy.
When Sharon came round from the anaesthetic, doctors informed her that the operation had gone very well. She remained in hospital for another three days, after which she was told she was allowed to go home. In preparation of her discharge, a doctor came to remove a drain that had been inserted into the right hand side of her abdomen after the operation. However, neither the doctor nor his colleagues were able to remove the drain.
This caused Sharon a significant amount of pains. She was also extremely anxious, as the doctors seemed at a loss over what should be done. A decision was made to wait until the next day when the consultant who had performed Sharon's hysterectomy would be available to assess the situation.
However, the consultant also failed to remove the drain and told Sharon that it might be caught on one of the internal sutures. He cut the bag off the drain and left the rest of the drain inside her abdomen. Sharon was then discharged from hospital and told to return to hospital three days later to have the rest of the drain removed.
After a very uncomfortable weekend at home, she attended her scheduled appointment with the consultant on Monday morning. But when the dressing was removed, it became apparent the tube had disappeared inside her abdomen.
The only option available was for Sharon to undergo another operation. She was upset at the thought of being operated on again only days after the hysterectomy. However, there was no other form of treatment, so she underwent the procedure the following day and the drain was eventually removed.
Sharon was finally discharged from hospital and slowly went on to recover from her ordeal. Even so, she felt extremely upset by the whole experience – knowing that a drain was lost inside her body was something she found very disturbing, while she had also had to undergo a second procedure. This caused her further pain and suffering.
We helped Sharon make a medical negligence claim for the damages she suffered because doctors inadvertently sutured the drainage tube in her abdomen. She was awarded over £5,000 compensation.
(Details which might identify our client have been changed.)
Would You Like Assistance from Specialist Surgey Negligence Claims Solicitors?
If you would like to benefit from a service of excellence with total commitment to client care from a small and friendly team, Glynns are ready and waiting to help you.
Early legal assistance is essential. Please call us free on 0800 234 3300 (or from a mobile 01275 334030) or complete our Online Enquiry Form.

---