Surgery Negligence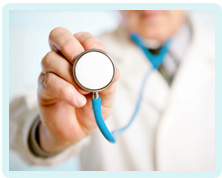 Cancer Patient Dies From Internal Bleeding
Bill's urethra was accidentally cut while he was having a rectal tumour removed. But the surgical team did not notice the injury and the ward staff did not attempt to find out why he was losing blood. He died of internal bleeding a day later.
Bill visited his GP after noticing that he was bleeding from the rectum. He was referred to a specialist who diagnosed rectal cancer. The tumour was one to two centimetres large and had not spread to other parts of his body. This was good news and it was decided Bill should have the tumour surgically removed, after which he would probably be free of cancer.
Before the operation Bill was nervous, but otherwise he felt well and believed he would soon be on the road to recovery. The procedure began at midday and lasted for around five hours, after which Bill was sent to the intensive care unit.
However, the nurses soon realised that Bill was losing blood. In the first two hours after the operation he had two blood transfusions, but still his condition deteriorated. By 8pm his blood pressure was falling, his pulse rate was rising and his central venous pressure was falling, indicating further blood loss. He had a third blood transfusion.
However, there was no surgical review until 1am, despite the fact Bill was continuing to worsen. Eventually the anaesthetist ordered he be taken back to theatre for investigations – by now some eight hours after Bill had been admitted to ICU. Keyhole surgery was performed, during which it was noted that the pre-sacral vein was oozing. The perineal wound was packed and Bill was taken back to the intensive care unit.
Sadly his blood loss persisted and Bill died just four hours later. During a post-mortem it was found that the entire wound had not been packed. This is because the surgeon decided to carry out the second operation via keyhole surgery, meaning the pelvis could not be properly visualised. Therefore the injury was not fully diagnosed and treated, and Bill went on to lose a fatal amount of blood.
His family were distraught about what had happened. They fully expected to visit Bill in the morning after a successful operation. They did not anticipate that continual failings in medical care would lead to his untimely death. Feeling angry and upset, Bill's daughter contacted Glynns to discuss the level of treatment her father had received. We suggested the hospital was negligent for a number of reasons:
Firstly, the surgeon should have detected and repaired the injury during the first operation.
Secondly, the staff on intensive care suspected internal bleeding but did not act with any urgency, failing to advise or inform the surgeon.
Thirdly, there was a delay in preparing Bill for the second operation.
Fourthly, when the procedure was undertaken it was done laparoscopically, rather than via a general incision, preventing the injury being diagnosed.
Lastly, at no point was Bill give any coagulant medication, something which would have helped stem the bleeding.
This repeated negligence caused Bill to die from intra-operative bleeding. We helped his family make a medical negligence claim against the hospital responsible and they were awarded in excess of £25,000 compensation. Although this could not undo the awful damage that had been done, it did provide Bill's widow with some form of financial support, while it also helped his family gain some form of justice for the terrible impact the hospital's negligence has had on their lives.
(Details which might identify our client have been changed.)
Would You Like Assistance from Specialist Surgey Negligence Claims Solicitors?
If you would like to benefit from a service of excellence with total commitment to client care from a small and friendly team, Glynns are ready and waiting to help you.
Early legal assistance is essential. Please call us free on 0800 234 3300 (or from a mobile 01275 334030) or complete our Online Enquiry Form.

---