Surgery Negligence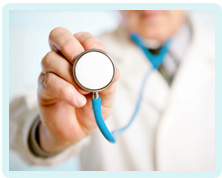 Bowel Perforated During Surgery
After undergoing treatment for endometriosis, Holly became critically unwell. It was soon discovered that the surgeon had perforated her bowel three times, a mistake that very nearly cost Holly her life.
Holly has suffered from endometriosis, a condition in which the uterus lining grows outside the womb, for much of her life. She received four sessions of laser treatment between 2000 and 2005, but the problem returned once again after Holly gave birth to her second child. She consequently returned to hospital to remove the endometriosis which had attached itself to her bowel.
Holly came round from the anaesthetic in the afternoon and was discharged later that day. By the time she got home she had an intense pain in her stomach and could do little but go to bed. By the afternoon of the following day she was still in agony, and she had not urinated or had a bowel movement since the procedure.
Becoming increasingly concerned, Holly's mother called the hospital. They advised she was simply suffering from wind and that she should get up and walk around. But luckily Holly's mother knew her daughter was seriously unwell and called an ambulance.
Holly was quickly admitted to a ward and given strong painkillers. Her stomach was bloated and she was vomiting green fluid. At 5am she was taken to the operating theatre where it was discovered Holly's bowel had been perforated three times during the procedure two days previously. This had caused gas to enter her blood, which had in turn poisoned her organs.
Holly was in theatre for five hours while the surgeon fitted a colostomy bag and repaired her bowel. She was placed in the Intensive Care Unit and remained on life support for two days. Her kidneys and lungs were failing so she was placed on dialysis. Holly's family were told she was critically ill and might not survive.
Thankfully Holly did make a recovery, although this was a very slow process. She developed further complications of pneumonia and a chest infection, needed speech therapy and physiotherapy for walking, and had low blood pressure.
Eventually she was discharged from hospital but continues to suffer adverse side effects. She remains in severe pain and still has a colostomy bag fitted. She has been unable to return to her job and no longer leads an active lifestyle, as she once did.
For Holly the most distressing thing is that it is difficult for her to look after her children. These devastating effects could have been avoided, had the surgeon displayed the appropriate level of skill and expertise while providing laser treatment from endometriosis. As a result of his negligence Holly has experienced severe physical, emotional and financial damage, for which she was awarded in excess of £60,000 compensation.
(Details which might identify our client have been changed.)
Can We Help You?
If we can help you to make a claim for compensation, you will benefit from the following funding options:
Conditional Fees ("no win, no fee")
Legal Expenses Insurance
Private Funding
Structured Payment Plans
Would You Like Assistance from Specialist Surgey Negligence Claims Solicitors?
If you would like to benefit from a service of excellence with total commitment to client care from a small and friendly team, Glynns are ready and waiting to help you.
Early legal assistance is essential. Please call us free on 0800 234 3300 (or from a mobile 01275 334030) or complete our Online Enquiry Form.

---