Doctor (GP) Negligence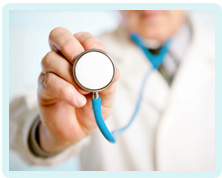 GP Negligence
When being treated for an under-active thyroid, Mary noticed a change in her symptoms and attended her GP. She was told that her condition was under control, but her health continued to deteriorate.
When Mary was diagnosed with an over-active thyroid as a young woman, it was treated successfully and she went into remission. Over 20 years later, she then developed an under-active thyroid and was treated with Thyroxin. This medication effectively controlled her condition, and Mary was able to carry on working.
During 2006, however, Mary began to develop symptoms such as palpitations, shaking and breathlessness. She reported these to her GP throughout 2006, who noted that while her blood tests showed she had slightly elevated markers, it was nothing to worry about.
Mary continued to be treated for an under-active thyroid, but her symptoms persisted. After pressing the issue with her GP for nearly a year, he finally agreed to send her for an X-ray. This was carried out at the local hospital and the results were sent to Mary's GP, who told her everything appeared to look normal. However, she still did not feel well, and became particularly concerned when she began to vomit a white frothy substance. Her GP eventually suggested she should be referred to a private consultant, but he repeatedly failed to book an appointment.
While she was waiting for an appointment to be made, Mary's health became progressively worse. She started to vomit blood and was struggling to breath. She was rushed to A&E, and was immediately admitted. Doctors then discovered that Mary had an over-active thyroid, despite the fact she was being treated for an under-active thyroid. The medication she had been taking was, therefore, making her condition worse.
Mary was so unwell that the hospital was unable to regulate her thyroid. Consequently she was given radioactive iodine treatment, which kills off the thyroid gland entirely. As a result, Mary's thyroid no longer functions properly and she must take medication for the rest of her life. She is also at constant risk of heart failure, which has made her too scared to do many of the things she used to do.
Mary contacted Glynns, and we reviewed her medicals notes. These revealed that her blood tests showed a suppressed TSH and rising T4, while her X-ray displayed she had an enlarged heart. Both of these things should have led Mary's GP to reduce her dose of Thyroxin, which then would have prevented her subsequent health problems.
Mary's GP admitted breach of duty in prescribing inappropriate medication, and her case was settled for over £3,000.
(Details which might identify our client have been changed.)
Let Us Advise You Now
Early legal intervention can be vital so please contact us if you think you may have a claim. All initial enquiries are completely free of charge and without obligation.
Please call us free on 0800 234 3300 (or from a mobile 01275 334030) or complete our Online Enquiry Form.

---