Failed Vasectomy/Sterilisation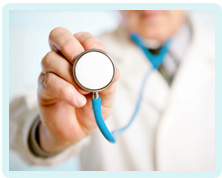 Patient Pregnant At The Time Of Sterilisation
After undergoing a sterilisation, Catherine discovered that she was eight weeks pregnant. She had therefore been pregnant at the time of the sterilisation but this had been missed by medical professionals who failed to do a pregnancy test.
After the birth of her third child, Catherine decided to have a sterilisation procedure.
On the day of the operation, Catherine was asked to bring a urine sample. She was also asked about her last period, and she replied that she'd had a very light bleed two weeks previously. The nurse dismissed Catherine's concerns about how little blood she had passed and told her to leave the urine sample on the bedside cabinet.
When she came round from the anaesthetic, Catherine was in a lot of pain. She was told this was because her left fallopian tube had been very thick and three clips were required. She was discharged later that day but remained unwell, and even had to call the GP in the night so he could administer an anti-sickness injection.
Two days later she returned to hospital with heavy bleeding. The cause was never checked and Catherine returned home, where she spent the next two weeks in bed. During this time she was waiting for her period to arrive, as she had been told to book a follow-up appointment after her next menstrual bleed.
But when her period did not arrive Catherine did a home pregnancy test which, to her surprise, was positive. This was confirmed by the GP the following day. A scan at the hospital revealed she was around eight weeks pregnant, meaning she had been pregnant prior to the sterilisation procedure.
This was very confusing for Catherine and her husband who had decided they did not want any more children. However, now she was pregnant, they both felt a great attachment to the unborn baby. But they were faced with a terrible dilemma because Catherine had been given morphine and other strong medication after the sterilisation. Doctors said this could have damaged the foetus.
Catherine and her husband made the agonising decision to terminate the pregnancy. This has had a terrible emotional impact upon Catherine. Had she known she was expecting before the sterilisation, she would have continued with the pregnancy. Catherine still does not know if they made the right choice and thinks about her unborn baby constantly.
The awful situation in which Catherine and her husband found themselves could have been easily avoided, had the hospital performed a pregnancy test before the sterilisation. This is routine practice and is the reason Catherine was asked to bring in a urine sample; failing to do so amounts to a serious case of negligence. We helped Catherine bring a claim against the hospital and she was awarded over £10,000 for the physical, emotional and financial damage she wrongfully endured.
(Details which might identify our client have been changed.)
Free Sterilisation Enquiry
Early legal assistance can be vital so please contact us if you would like to discuss your situation. Please call us free on 0800 234 3300 (or from a mobile 01275 334030) or complete our Online Enquiry Form.

---